Exclusive
Judge Rules Amanda Bynes To Stay Under Conservatorship Until 2015, As Actress No-Show In Court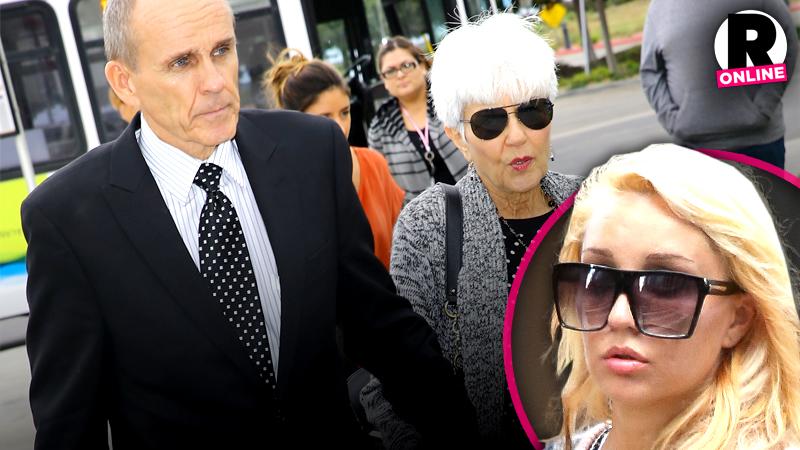 The judge overseeing Amanda Bynes' conservatorship has ruled that the troubled starlet will be under her mother, Lynn's, control, until 2015, after meeting in chambers with attorneys. But there was no mention of getting her back into treatment, as the actress continues to roam the streets of Hollywood.
Emerging after 30 minutes in chambers, a lawyer, purportedly hired by Bynes, was told his services wouldn't be needed: Under the terms of the conservatorship, she couldn't hire anyone to represent her because she doesn't have the mental capacity to do so. Bynes already has a court-appointed lawyer that will continue to be her advocate.
Article continues below advertisement
The actress wasn't present for the proceedings​, but her parents, Rick and Lynn, were in attendance.
It was revealed that Amanda will be under conservatorship until 2015, but nothing was discussed in open court about any plans to get her back into a mental health facility, after a judge ruled on Thursday night that she be released from Las Encinas treatment center in Pasadena.
A judge had no choice but to release the troubled starlet from the psychiatric facility Las Encinas Hospital on Thursday after her nearly three-week involuntary hold. Bynes asked for her freedom and the courts determined that she no longer posed a threat.
Just hours after she gained her freedom, however, Bynes was spotted wearing a black coat, black leggings and dark sunglasses while she roamed the streets of L.A. talking to herself, gorging on food at a diner and looking for a place to stay.
She started tweeting up a storm — and her new series of allegations were very disturbing.
"I am going to court today with my lawyer to prove that I am more than capable of handling my personal life and finances and I am enraged," sniped the 28-year-old. "I got released from the hospital that Sam Lufti and my parents arranged to send me to because my dad is humiliated by what he's done."
During the proceedings, Amanda, who currently does have a valid driver's license, was spotted having lunch at Mel's Drive In in Hollywood.