What The Cameras Didn't Catch: Corey Simms Reveals Ex-Wife Leah Messer Acted Drugged-Up At Daughter's Cheerleading Practice On Teen Mom 2 Reunion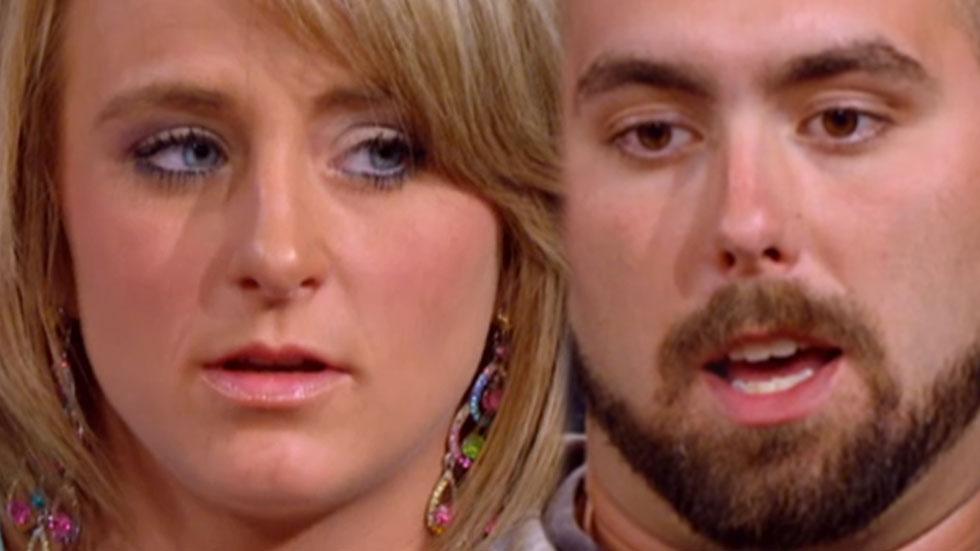 On the first part of the Teen Mom 2 season reunion last night, Leah Messer denied that her admitted pill use was a factor in her bitter custody battle with ex husband Corey Simms.
"I was like on that medication for a week actually, and Corey and them didn't even know I was on medication," the 22-year-old mother of three— who had 4-year-old twins Ali and Aleeah with Simms when they were just teenagers— argued to Dr. Drew Pinsky.
Article continues below advertisement
She claimed that Simms, 25, and his new wife Miranda called her an "incompetent mother" in court simply because under her care, Ali, who suffers from a rare form of muscular dystrophy, missed a few physical therapy appointments and days of school.
But when Simms and his bride took the couch to speak with Pinsky, they told a different story.
When asked why he was fighting for full custody of the twins, Simms said "We've heard rumors about the medication stuff, and I didn't like that. I ain't gonna lie. It's Leah's life, but it's my daughters."
Though Messer swore she only experienced slurred speech, glassy eyes and spontaneously falling asleep the few times she was caught on MTV's cameras, Simms made it clear to viewers that the scary instances were just a small part of a bigger problem.
"I thought it was longer than a week. I noticed it at cheerleading and stuff like that, you could tell. There were just things you could pick up on," he told Pinsky. "If we had them more with us, they would have a more stable and consistent life."
Article continues below advertisement
After the show's fans became shocked by Messer's bizarre onscreen behavior in a July episode, RadarOnline.com exclusively revealed that friends feared the stay-at-home mom had been dabbling in more than just anxiety pills responsibly prescribed by a doctor.
"We think Leah could be taking powerful painkillers including Lortab and Percocet," a source close to the West Virginia native told Radar. "They are very easy to get on the streets in her hometown."
Sources insisted Messer was completely overwhelmed by raising three young children, one of whom suffers from a debilitating illness.
"It's all too much for her," says the insider. "Sometimes she drops her girls off with her mom at night and takes painkillers or drinks heavily."
Do you think Leah is downplaying her pill problem? Sound off in the comments.