'Teen Mom 2' Star Leah Messer Breaks Down Over Heartbreaking Custody Battle With Ex Corey Simms: 'I Can't Imagine Not Being The One Taking Care Of Her!'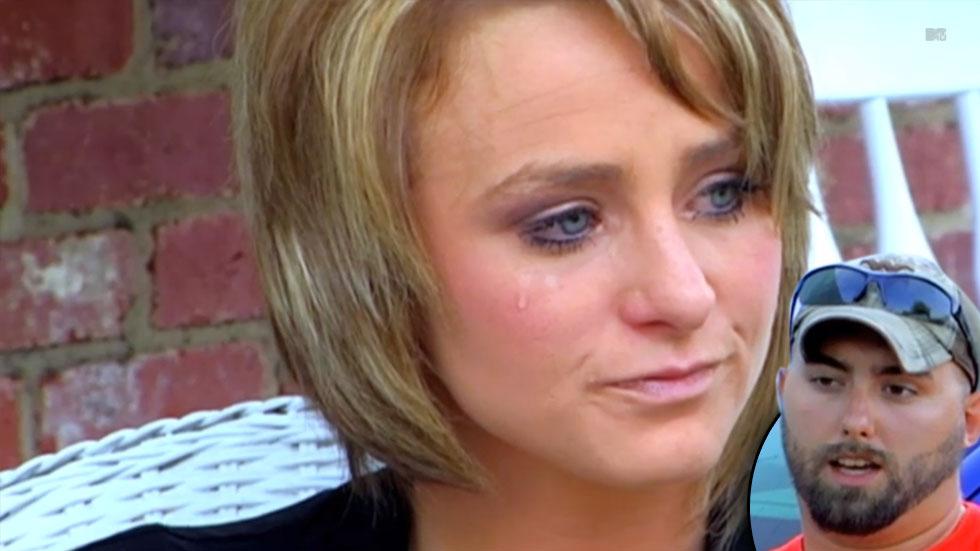 Leah Messer could lose custody of her adorable twin daughters— and she's completely devastated.
In a new clip from the upcoming episode of Teen Mom 2, the mother of three, 22, breaks down while discussing her custody battle with ex-husband Corey Simms.
"It shocked me," she tells her stepfather Lee about Simms' latest legal move, filing for full custody of 4-year-old Ali and Aleeah. (Currently the reality star and her second husband Jeremy Calvert, 25, have primary custody of the girls.)
Article continues below advertisement
"Why would you give custody to a parent who is in denial of what the facts are when it comes to Ali's medical condition, who is not wanting to cooperate with fulfilling her needs?" questions Lee, referring to Simms' reluctance for Ali— who was diagnosed with a rare form of muscular dystrophy last year— to depend on a wheelchair.
After he mentions Messer's dedication to Ali's health over the years, including long trips from their native West Virginia to Ohio for doctor's appointments, the struggling young mother questions her ex's motives.
"If I was such a bad mom, why didn't he do it before?" she asks. "The worst outcome would probably be that he would get full custody, and I don't know how I would deal with that…I can't imagine not being the one taking care of her."
"When is it going to be over?" she sobs.
As RadarOnline.com exclusively reported, friends fear the star isn't coping well with the extreme stress of parenting a disabled child and fighting with her former husband— and could be turning to prescription drugs to escape the pain.
"We think Leah could be taking powerful painkillers including Lortab and Percocet," an insider told RadarOnline.com in July. "They are very easy to get on the streets in her hometown."
Do you think Simms is out of line by trying to take their kids away? Sound off in the comments and watch the video.
The new episode of Teen Mom 2 airs Wednesday at 10 pm.