Exclusive
'Teen Mom' Heartbreak: Leah Messer's Ex 'Doesn't Want To Accept' Daughter Ali Needs A Wheelchair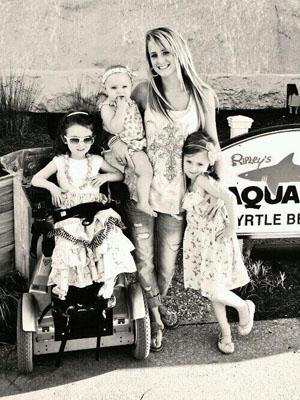 Teen Mom 2 star Leah Messer proudly showed off a photo of her adorable family over the weekend with her twin daughter Ali smiling in her wheelchair but RadarOnline.com has exclusively learned that she and her ex aren't always on the same page when it comes to their child's diagnosis and that he "doesn't want to accept" she needs the chair.
The MTV star, 21, has been openly sharing the struggles she faces as a mother with a child diagnosed with Muscular Dystrophy and shared a picture of her three daughters together, writing: "Just a day at the aquarium with my babies! It was PERFECT!" and Ali looked cheerful in the shot.
Article continues below advertisement
However, Corey Simms, the father of twins Ali and Aleeah "Gracie," has been reluctant to accept the fact that his daughter needs the wheelchair.
"Leah is doing everything she can for Ali and she wants her to use the wheelchair to make her life better," a source close to Messer told Radar.
"Corey of course loves his daughter, but he's been more difficult to convince that it is the best thing for Ali. He doesn't want to accept that she does need the wheelchair."
Corey's parents are closely involved in their granddaughter's lives, and his own father, Jeff Simms, shared a recent picture of the girls fishing but Ali was not in her wheelchair.
"Leah hates that Ali needs a wheelchair, but she accepts it and makes it as easy for Ali as she can," the source told Radar.
"She wants Corey and his family to do the same thing because she doesn't ever want Ali to get two different messages about her life."