Defying The Odds! 'Teen Mom' Leah Messer Reveals Daughter Ali — Told She Would Be Confined To A Wheelchair — Is Now Running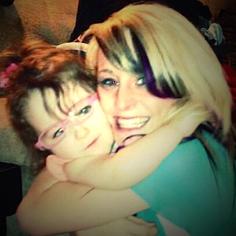 Teen Mom 2 star Leah Messer has revealed that her four-year-old daughter Ali -- battling muscular dystrophy — is defying the odds -- one step at a time!
Just six months after Messer learned her daughter would spend much of her life confined to a wheelchair, the MTV stars says the tot recently began running on her own.
"Ali is running! She's going so much better than expected," Messer, who is married to Jeremy Calvert,told Life & Style.
Article continues below advertisement
"We don't now what the future holds, but this is proof that we should never give up hope."
Leah said she was shocked when Ali -- whom she had with ex-husband Corey Simms – began running.
"She has so much determination. We're in awe of how she handles adversity."
Leah is taking the great news one day at a time though, facing the possibility that Ali may eventually still need a wheelchair.
But she believes there is a silver lining to Ali's challenges.
"Ali's disability has really brought us closer," she said about her once-fractured family.
"We're going to conquer this together."