Teen Mom Leah Finally Breaks Down Over Daughter Ali's Scary Diagnosis: 'She Is The Sweetest Little Baby… Why Her?'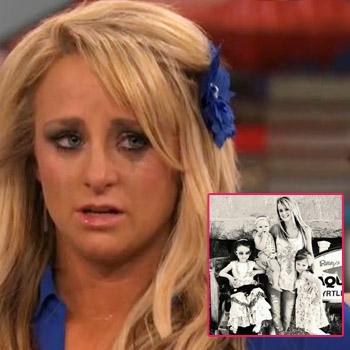 Leah Messer held in her heartbreak while receiving her daughter Ali's rare muscular dystrophy diagnosis on last week's episode of her MTV reality show, but the Teen Mom 2 star broke down in tears when moderator Dr. Drew Pinksy asked about her adorable little girl's condition on last night's finale special.
"She is the sweetest little baby," cried Messer, 21, also mother to Ali's healthy twin sister Aleeah Grace, 4, and Adalyn, 1. "She would do anything for anyone. It's like, why her?"
Article continues below advertisement
Messer described her sadness when Ali has questions about her disease, which weakens the muscles and limits movement.
"She asks me, 'Mommy, why do I keep falling?' the reality star, now married to pipeline engineer Jeremy Calvert, 25, said through her tears. "I just tell her to get up, everything's okay."
Fortunately, Messer says Ali loves preschool, and is soon getting a new $20,000 wheelchair.
"Ali loves it," the star gushed of her daughter's adjustment to the chair.
Though Ali's father, Messer's ex husband Corey Simms, 24, was initially hesitant to accept his daughter's medical condition, he told Dr. Drew that he now understands the severity of the situation.
"It just kills you," he admitted. "But I want to stay positive and strong for her."