Super Mom! Leah Messer Stays Strong After Hearing Daughter Ali's Devastating Diagnosis on 'Teen Mom 2'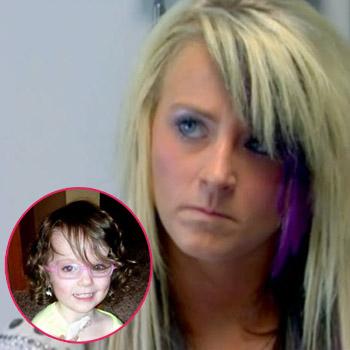 It's every mother's worst nightmare. But as Teen Mom 2 star Leah Messer confronted the stark reality of her four-year-old daughter Ali's genetic test results on last night's season finale, she managed to stay calm under pressure.
Messer, 21, husband Jeremy Calvert, her mother Dawn, ex-husband Corey Simms, and his new wife Miranda traveled with adorable Ali— who has suffered from developmental issues since birth— from their native West Virginia to meet with Ohio neuromuscular specialist Dr. Tsao.
Article continues below advertisement
After calming her frightened daughter at the breakfast table, Messer went to Dr. Tsao's office with Simms and their daughter to get the answers they'd been desperately seeking for years.
"We do know she has muscular dystrophy," Dr. Tsao revealed, adding that the toddler specifically suffers from a Titan gene mutation. "Doctors throughout the world are just starting to learn about this mutation, which can affect the heart and breathing. Throughout the whole world, there are less than twenty cases."
As Messer asked important follow-up questions, she hugged her daughter tight and held back tears. "This is crazy," she whispered to Simms.
Later, Messer dined with Calvert, Simms and his wife to discuss the scary diagnosis.
"We don't know what to expect, since it's so rare," she told the supportive group, who put aside differences to rally for Ali. "We have to take it as it comes. We've been strong this far. We still have to have hope."
Article continues below advertisement
Now, months after filming the difficult day, Ali often uses a wheelchair, sources tell RadarOnline.com— but Messer remains optimistic about the future.
"Ali is running! She's doing so much better than expected," she recently told Life & Style. "We don't now what the future holds, but this is proof that we should never give up hope."
"She is remaining so strong throughout all of this," the source says of Messer, also the mother of Ali's twin sister, Aleeah "Gracie," and 1-year-old Adalyn. "Her daughter's health is and always has been her top priority."
Viewers can now continue to watch Ali's development, as RadarOnline.com exclusively reported last week that the MTV hit will be returning for a sixth season.
The Teen Mom 2 season reunion airs on Tuesday at 11 PM.