Fans Shocked, Concerned By Drugged Up Leah Messer's Strange Behavior On 'Teen Mom 2': 'That Was Scary!'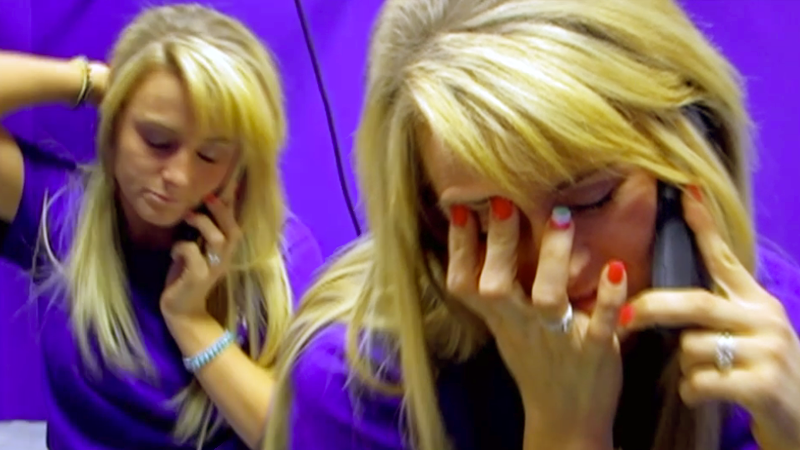 In last week's Teen Mom 2 preview clip, Leah Messer admitted feeling "really messed up" on an unnamed medication a doctor had recently prescribed.
But when the episode aired, fans were shocked by just how strange the 22-year-old began acting on camera.
During a scene where the mother of three is working at West Virginia tanning salon & spa Tanfastiq, she admits that the medicine is making her "super drowsy" before calling her disabled 4-year-old daughter Ali's physical therapist, Kim.
Article continues below advertisement
"I forgot what I was going to say now," the troubled blond tells the doctor right away while struggling to hold her eyes open.
"What do you think I should do about the wheelchair . . ." she adds, slurring her words before trailing off.
Later in the conversation, MTV uses subtitles because Messer becomes completely incomprehensible.
But it doesn't offer much assistance.
"Like they even make a lower dye and stuff, instead of putting all that stuff in a kid's head," she mumbles.
"I'm sorry, you're really breaking up Leah," Kim politely says because ending the call.
Messer's many fans expressed their concern for her extremely sedated behavior.
"It was incredibly hard to watch Leah like that," one tweeted during the July 30 episode. "Oh my gosh. I hope she got off that medication because that was scary."
"I'm not saying Leah was on heroin, I'm saying she's equally as high as Jenelle was when we saw her on heroin," said another, referring to Messer's costar Evans' very public drug battle. (Evans, 22, now says she is clean, and welcomed a baby, Kaiser, with boyfriend Nathan Griffith in June.)
Article continues below advertisement
"Wow #LeahMesser went to work high!?! Just another pill poppin' momma!" said a less sympathetic supporter.
As RadarOnline.com exclusively reported, friends fear Messer has been taking prescription painkillershttps://radaronline.com/exclusives/2014/07/teen-mom-2-leah-messer-painkiller-pills/ without a doctor's script to deal with the stress of her daughter's diagnosis with a rare type of muscular dystrophy.
"It's all too much for her," an insider told RadarOnline.com. "Sometimes she drops her girls off with her mom at night and takes painkillers or drinks heavily."
Messer is also the mother of Ali's twin Aleeah Grace and 1-year-old daughter Adalynn.