'Teen Mom' Leah Messer's Youngest Daughter Takes First Steps In Wake Of Prognosis That Older Sister Will Spend Adult Years In A Wheelchair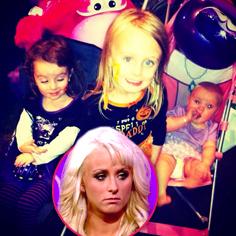 Teen Mom 2 star Leah Messer has a lot on her hands, especially with three growing daughters.
On Jan. 29, Messer posted a video of her youngest daughter Adalynn — who turns one on Feb. 4 — taking her first steps on Facebook.
In the video, Messer propped up little Adalynn just before she took off towards the television.
Sadly, Adalynn's achievement comes in the wake of some disheartening news for one of her two older twin sisters, Aliannah (Aleeah is the other older twin sister).
Article continues below advertisement
As RadarOnline.com previously reported, Messer revealed that her 4-year-old daughter, Aliannah, is battling muscular dystrophy.
Sadly, as Ali gets older, the child's respiratory system will be impacted by her growth, resulting in her spending her adult years in a wheelchair.
"The bigger she gets and the more weight she gains, the harder it'll be for her muscles to carry the weight," the MTV star said.
But while Aliannah's family is "scared," they are determined to do all that the can to "make sure Ali has the life that she needs."
"We always pushed for answers — we never gave up, and we never will,"Messer said. "We'll do everything we can."
https://www.facebook.com/photo.php?v=716104285087630