Redneck Toddler? 'Teen Mom 2' Star Leah Messer Allows 3-Year-Old Daughter To Take Toy Gun To Cheer Practice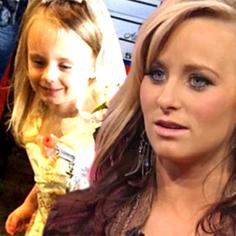 Teen Mom 2 star Leah Messer let her young daughter take a toy gun to cheerleading practice, RadarOnline.com has learned.
The reality television star shared a photo of her three-year-old twin daughters, Aleeah and Ali, who were dressed up in Halloween costumes for the school function.
"I really have no clue to why she wanted to take her gun," Leah tweeted along with a photo of Aleeah prancing around dressed as Rapunzel. "#lilredneck."
Article continues below advertisement
While Aleeah's faux-weapon does have a little red cap on it (which makes it easy to identify as a fake), some folks might be concerned that she wouldn't know the difference between a real gun and her toy gun.
Commentors were divided, with some calling Messer "irresponsible" for allowing her young twins to show up to a school function with the fake toy.
"I personally don't like toy gun but to each their own," one fan wrote.
Others didn't seem quite as phased.
"She's a bada** already," one fan wrote, with another simply writing, "It's just a toy."
Are you surprised that Leah lets her girls play with fake guns? Tell us in the comments, below.