Drug Problem? Leah Messer Starts Taking Prescription Pills On 'Teen Mom 2': 'It Makes Me Feel Bad'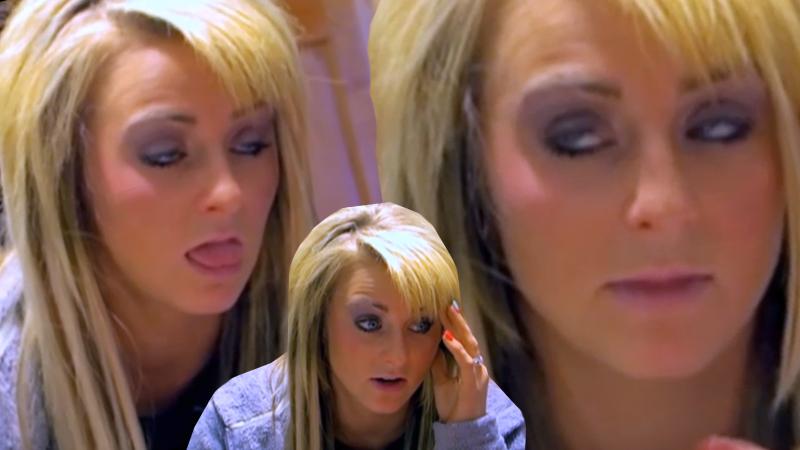 Unlike some of her fellow Teen Moms, reality star Leah Messer has managed to escape the throes of addiction. But in a disturbing new preview clip for Teen Mom 2 , she admits to taking pills prescribed to her by a doctor, and how they made her feel like a "druggy!"
Messer has struggled with having to take on a new job to help with her daughter Aliannah's medical bills and taking care of three children. She openly discussed how emotionally everything was taking a toll, and eventually went to a doctor who prescribed her pills that made her feel too loopy.
Article continues below advertisement
"I'm about to start crying over here," she told her husband, Jeremy Calvert in the new clip. "When I first take that medicine, I feel calm and I feel like I can do stuff. I took half of it this time instead of a full one and now I feel really messed up. Maybe it's just me thinking about it too much."
"I feel like I'm about to start crying because I feel like . . . I'm on drugs and I've never felt like that ever in my life," she continued. "I don't like feeling like that. I feel like I'm slurring and I just feel really weird and I'm freaking out."
Calvert told her to call her doctor, but Messer said that her doctor had warned her her she would feel out of it until her body got used to the new pills.
Calvert then pointed out that he thought that Messer was taking too strong of a dose – a full pill in the morning and at night — and that she maybe needed to take a smaller dose.
"It helps me at first and then I start feeling like a damn druggy," she said.
Article continues below advertisement
Jeremy responded, "You can see if in your eyes right now."
"That's what I'm saying: It makes me feel bad," Messer continued. "I don't want to feel slow. I don't want to look like that. But I know that I need it because it helps me at first . . . then throughout the day, I feel worse."
The weird feeling made Messer feel conflicted.
"It's starting to make me sad because I'm not that type of person," she said. "I've never took anything like that, so I'm starting to feel like, 'What's wrong with me?'"
Calvert thought it was all because Messer had "too much on her plate."
"Just be there for me," she concluded. "Be supportive. Talk to me. Be there when I need somebody to talk to."
WATCH the clip here: