Kim Kardashian & Kanye West's Marriage Reportedly A 'Sham:' 'They Haven't Slept Together In Weeks!'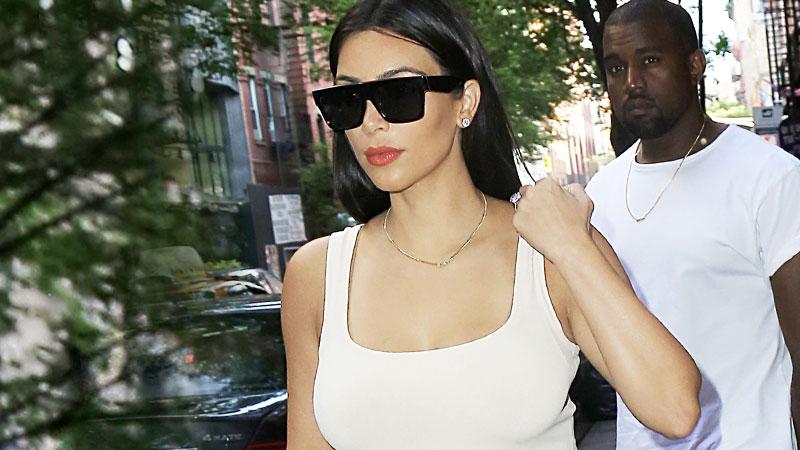 Kim Kardashian and Kanye West may have acted like the perfect couple at Givenchy designer Ricardo Tisci's birthday bash in Ibiza last weekend, but their relationship is actually a total joke, claims InTouch.
"Their marriage is a sham," an insider tells the magazine.
According to InTouch, "Kanye and Kim haven't slept together in weeks," a source says.
Indeed, while Kardashian has spent much of the new marriage living in mother Kris' Calabasas, Calif. home, West has been away on tour, at his Paris apartment, or recording his upcoming album in the studio.
Article continues below advertisement
But even when they do spend the rare night in the same bed, "Kim feels like Kanye makes excuses not to have sex with her."
And allegedly, Kardashian doesn't mind the lack of intimacy.
"She used to trash-talk Kanye, saying he smelled bad," says the insider. "She once confessed she's disgusted by him."
While the sex-tape star turned Vogue cover model, 33, had no problem dumping second husband Kris Humphries after just 72 days of marriage in 2011, Kardashian now has more of an incentive to stay in her third union, the magazine alleges.
"The longer Kim stays married, the more money she gets," an insider close to the couple's elaborate prenup tells InTouch. "Every decision that she makes in life is calculated. Why should her marriage be any different? It's all a business deal."
As RadarOnline.com recently reported, the parents to 1-year-old daughter North have been fighting constantly since their wedding day.
"Kanye can't understand Kim's love of just lounging around for days at a time," an insider says of the infamous workaholic, 37.
"There seems to be a lack of playful banter between Kim and Kanye, and laughter," a source told RadarOnline.com last month. "By all appearances, Kim looks like she has it all — a perfect husband, and a beautiful daughter — but the light and joy in her eyes is gone."