Exclusive
It's Official! Kim Kardashian FINALLY Divorced From Kris Humphries -- 581 Days After She Filed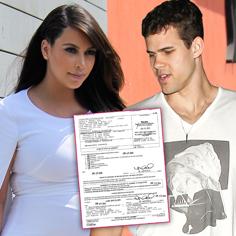 Article continues below advertisement
"The court orders, good cause appearing, judgment of dissolution is entered. Marital or domestic partnership status is terminated and the parties are restored to the status of single persons on June 3, 2013," the documents reveal.
The 32-year-old E! reality star signed the docs on May 27; Humphries inked them on May 23.
Kardashian filed for divorce after just 72 days of marriage in 2011, after the couple had an over-the-top wedding.
In a statement at the time, she said: "After careful consideration, I have decided to end my marriage. I hope everyone understands this was not an easy decision. I had hoped this marriage was forever, but sometimes things don't work out as planned. We remain friends and wish each other the best."
The queen of the reality television empire is expected to give birth to a baby girl in July.