Exclusive
Porn Star Christy Mack Tells Graphic Details Of Alleged Assault By Ex-Boyfriend Jonathan Koppenhaver – 'I Was Going To Die'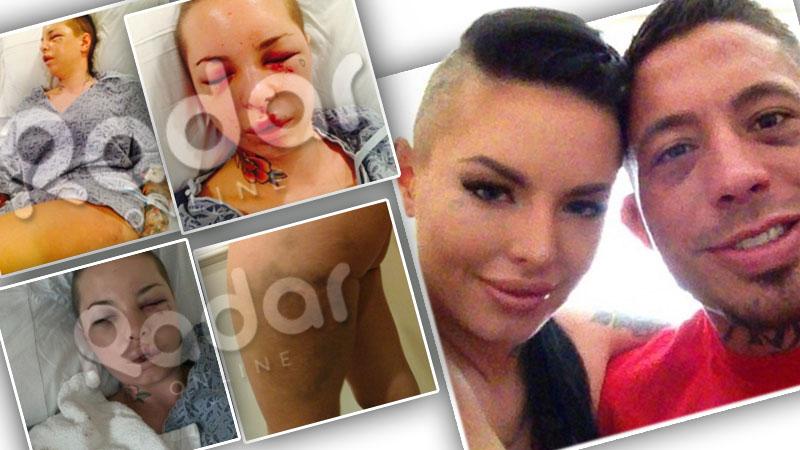 Christy Mack, who was taken to the hospital Friday for severe injuries as a result of an alleged domestic violence dispute, has decided to come forward with the excruciating details of what happened with her ex-boyfriend, Jonathan Koppenhaver — better known as the MMA fighter, "War Machine."
Mack exclusively spoke with RadarOnline.com about all of the details in the harrowing incident, and provided graphic photos that also involved a close friend.
Article continues below advertisement
Koppenhaver, according to authorities in Las Vegas late Monday, was on the run from the law in connection with seven arrest warrants (two counts of felony batteries, with one for strangulation; two counts of felony domestic violence with great bodily injury; one count of felony coercion with the threat of force, one count of felony assault with a deadly weapon, and one count of misdemeanor assault with a deadly weapon).
In the incident, the fighter, who broke up with the porn star in May, allegedly showed up unannounced at Mack's Las Vegas home after having moved back to San Diego. Mack tells RadarOnline.com that the MMA fighter discovered her with a friend who was "fully clothed" and "unarmed in the house."
This is what happened next, according to Mack.
"Without a single word spoken, he began beating my friend; once he was finished, he sent my friend away and turned his attention to me," Mack says. "He made me undress and shower in front of him, then dragged me out and beat my face."
Article continues below advertisement
Although Mack claims she can't recall how many times she Koppenhaver allegedly hit her, she does know the full extent of her severe injuries, which include 18 broken bones around her eyes, a nose that's broken in two places and missing teeth.
"My speech is slurred from my swelling and lack of teeth," she says. "I have a fractured rib and severely ruptured liver from a kick to my side.
"My leg is so badly injured I have not been able to walk on my own."
Not only did her ex-boyfriend reportedly pummel her, he also allegedly used a knife to further injure her. Mack claims that her estranged lover used a knife to saw off her hair while also pushing it into other body parts such as her hand, ear and head.
"I believed I was going to die," she says.
Mack also claims that the professional fighter had "beaten me many times before, but never this badly."
She said that he took her phone and cancelled all of her plans for the week so friends and family wouldn't worry about where she was. She also says he tried to rape her, "but was disappointed in himself when he could not" maintain an erection.
Article continues below advertisement
When Koppenhaver finally left the room for a bit, Mack was able to escape. She said she ran through the neighborhood "naked and afraid," knocking on doors until finally someone answered and brought her to the hospital.
Now, Mack is making an official statement:
"I would like to thank everyone for their support through this rough time. I am healing fast and well, and I appreciate all of the prayers and visits I have received over the past few days. After many months of fear and pressure to keep this man happy, although I fear for my life, I feel that I can no longer put myself in this situation. The cheating by him nearly every day, and almost weekly abuse is now more than I can stand. There is a $10k reward for the capture of Jonathan Koppenhaver at this time. Please report any information to your local police."
On his Twitter account, Koppenhaver — whose motto is, "I do Alpha Male sh*t — addressed the ongoing investigation in a series of tweets in which he claimed to be "cursed."
He wrote, "I'm not a bad guy, I went to surprise my gf, help her set up her show and to give her an engagement ring and ended up fighting for my life … The cops will never give me fair play, never believe me. Still deciding what to do but at the end of the day it's all just heart breaking … I only wish that man hadn't been there and that Christy & I would behappily engaged.I don't know y I'm so cursed. One day truth will come out."