Exclusive
'Maybe I'll Manhandle You': Ariane Bellamar Claims Tech Tycoon Bragged About His Physical Strength In Foreboding Text Before Alleged Assault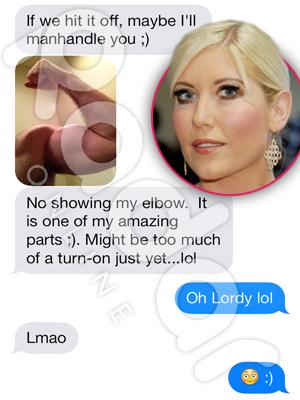 Beverly Hills Nannies star Ariane Bellamar could never have guessed how quickly her innocent flirtation with tech tycoon Patrick Henry would turn to tragedy.
As RadarOnline.com has reported, Bellamar claims he attacked her during what was supposed to be a romantic getaway to Park City, Utah, earlier this month.
Now, RadarOnline.com can reveal the foreboding text messages Henry sent Bellamar before the fateful trip, bragging about his physical strength and even joking -- in what now seems a darkly prophetic tone -- about how he would "manhandle" her.
Article continues below advertisement
"If we hit it off, maybe I'll manhandle you ;)" Henry texted Bellamar before they went away together. And then, he sent a close-up of his impressive bicep and clenched fist.
"No showing my elbow," he wrote. "It is one of my amazing parts ;) Might be too much of a turn-on just yet … lol"
Henry, who Bellamar estimates is about 6'2" and close to 270 pounds would later use that strength against her, she claims, in a date night gone wrong.
After she mistakenly locked him out of his cabin, Bellamar previously told RadarOnline.com, "I was woken up by Patrick dragging me by the hair and throwing me into the garage. He was screaming at me, accusing me of deliberately locking him out of the house."
"He then proceeded to throw me multiple times into the concrete walls of the garage," she alleged. "I am bloodied and bruised … It was terrifying."
According to hospital records obtained by RadarOnline.com, Bellamar was subsequently diagnosed with "stress reaction to recent assault" as well as "multiple strains, contusions, and abrasions," including hand sprain and shoulder sprain.
When reached for comment by RadarOnline.com, Henry identified himself before hanging up the phone.
A rep for Entropic Communications, of which he is currently CEO and President, told RadarOnline.com: "Entropic is aware of the allegations and is reviewing the matter. The Company does not intend to comment further at this time."