Exclusive
Bloodied, Battered & Bruised: 'Beverly Hills Nannies' Star Ariane Bellamar Claims Tech Tycoon Attacked Her In 'Traumatizing' Assault At Sundance Film Festival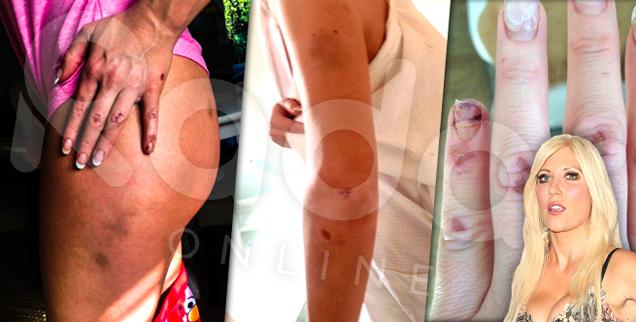 Article continues below advertisement
But now, she's bravely sharing her shocking story in the hopes that other women will avoid falling victim to her fate.
Bellamar and Henry -- the high-powered CEO of Entropic Communications and star of the business world -- first met online.
"We talked on the phone several times," Bellamar told RadarOnline.com in an exclusive interview. "He then invited me to Utah. He seemed normal and checked out with people I knew. And the first night went well."
Little did she know, her trip to the playground of the rich and famous was about to change drastically.
"The second night, January 22, he started doing shots… and became very jealous of the attention his friends were paying me," Bellamar explained. "I told him I wanted to leave but he did not. I took a cab back to the cabin, inadvertently locked the door behind me and went to bed."
Soon, she claimed, "I was woken up by Patrick dragging me by the hair and throwing me into the garage. He was screaming at me, accusing me of deliberately locking him out of the house."
Article continues below advertisement
"He then proceeded to throw me multiple times into the concrete walls of the garage," she alleged. "I am bloodied and bruised all up and down my left side of my body and… right side. It was terrifying."
"After three tosses, I just laid freezing on the garage floor, begging him to allow me into the house ," Bellamar added. "I thought that I was going to freeze to death. I was still in my cocktail attire from the evening. He looked crazy."
Henry soon agreed to let her back in, Bellamar claimed, but the ordeal was far from over.
Overwhelmed with pain and shock, the reality star said, "I went to the couch and cried and cried in the fetal position."
After yelling at her to stop crying, Henry "picked me up and tossed me back into the bed," Bellamar claimed.
"I was in total shock, cyring and shaking uncontrollably. He yelled at me to shut up again. When I couldn't stop, he turned the lights on, ripped the covers off, and demanded I leave. I was in so much pain and shock I couldn't respond. He then called the police saying that I wouldn't leave."
Article continues below advertisement
Police have confirmed they're investigating an incident, although no charges have yet been filed.
Summit County Sheriff's Captain Justin Martinez told RadarOnline.com: "We responded to the scene to take witness statements, photos, gathered the information necessary to complete the report and then forwarded that to the Attorney's office."
Meanwhile, Bellamar said she is trying to recover from her injuries: Hospital discharge records obtained by RadarOnline.com reveal that doctors at Santa Barbara Cottage Hospital diagnosed Bellamar with "stress reaction to recent assault," as well as "multiple strain, contusions and abrasions," including hand sprain and shoulder sprain.
Article continues below advertisement
A few hours later, Henry sent a second, more panicky missive, which read: "Keep in mind that if you publicly disparage me, I will reveal the facts of the situation in defense of myself."
Indeed, Henry could want to defend himself against the allegations: As CEO of Entropic Communications, he is more often covered in the pages of Forbes or Business Week and according to reports, he makes more than $2 million-per-year in salary.
But as far as Bellamar is concerned, the truth of what happened during their getaway is written all over her battered body.
"The whole thing has been so traumatizing," the reality star explained. "I cannot understand that kind of violence, as a woman or as a mother."