Exclusive
REVEALED: Rachael Ray's Tragic Aunt Who Died After Being Locked Outside In Freezing Temperatures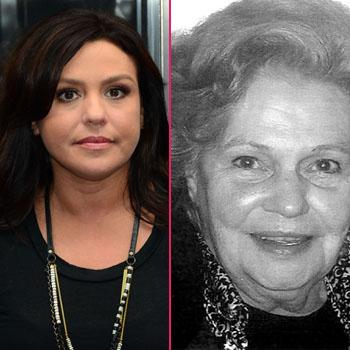 Fans of TV chef Rachael Ray have been shocked to learn the tragic story of her aunt who died the day after Thanksgiving after mistakenly getting locked outside in freezing temperatures. Now, only RadarOnline.com can reveal the identity of Ray's beloved, deceased relative: 77-year-old Geraldine Dominica Scuderi of Queensbury, New York.
Known as "Cheech" to friends, Scuderi was born in 1936 in Ticonderoga, New York, married at the age of 20, and is survived by four children.
Article continues below advertisement
And though she was a devoted homemaker and mom, family members say her true calling was art.
"Her passion in life was her artwork," Scuderi's obituary, published on PostStar.com, reads. "Her paintings grace many homes and businesses throughout New York and Massachusetts."
A wake for Scuderi was held on Thursday, December 5, in Ticonderoga, with a funeral following. As the National ENQUIRER originally reported, Ray did not attend due to prior work commitments.
As the ENQUIRER reported, Scuderi passed away on the day after Thanksgiving, November 29, after mistakenly getting locked out of Ray's mother's home in upstate New York, where she was house-sitting. After battling against below-freezing temperatures, Scuderi's body was found in the driveway the next day.