Kanye West Beatdown New Details: NO Witnesses Heard Alleged Victim Threaten To Kill Kim Kardashian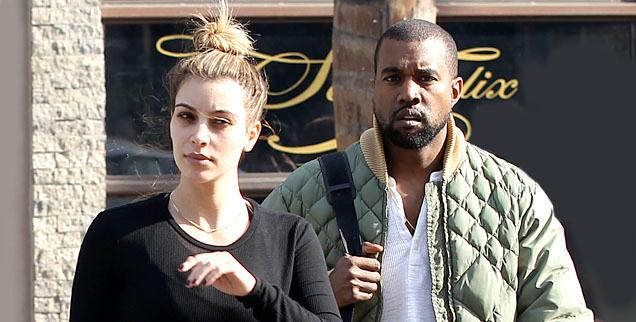 No witnesses have stepped forward to corroborate Kim Kardashian's claims that the young man accused of shouting racial and homophobic slurs at her was also threatening to kill her -- leading to the teenager's beating at the hands of her baby daddy Kanye West, RadarOnline.com is exclusively reporting.
As we previously reported, West is accused of attacking the 18-year-old in the office of a Beverly Hills chiropractor after the teen reportedly crudely taunted West's fiancée, Kardashian.
Article continues below advertisement
Kim has claimed that the young man "threatened to kill her, and she was fearful for her life," a source told RadarOnline.com, but "there are no witnesses that can substantiate Kim's claims that heard the threat.
"Kim hasn't filed an official police report yet, but it will be very interesting if she does, because cops want to question her about what she saw and heard when Kanye entered the office, and allegedly began hitting him. If Kim was in such fear for her life, why did she call her fiancee and not the cops? She could have -- and should have -- done that instead of Kanye seeking some sort of vigilante justice."
The Yeezus rapper, who's currently under investigation for felony assault and battery in connection with the incident, found the alleged taunter sitting down in an office building, and allegedly struck the 18-year-old male more than 30 times, many of which landed in the young man's face, according to online reports.
The victim reportedly slinked into fetal position to minimize the damage as the angry rapper used him as a punching bag.
Article continues below advertisement
While Kim was paralyzed with shocked silence throughout the attack, a secretary on duty in the chiropractor's office tried in vain to persuade the mercurial celebrity to halt the beating, according to reports. Eventually, another worker at the establishment pulled the two apart and kicked West out of the office.
West has a checkered past when it comes to anger-fueled incidents, including a no contest plea to battery six years ago, and an ongoing case in which he's accused of roughing up a photographer
Neither West nor Kardashian have agreed to do a sit-down formal interview with Beverly Hills cops about the fight in the chiropractor's office, and when Kim was quizzed about the incident on Ellen Friday, she said she "legally can't" discuss it.