Racism Hypocrite? Kanye West Attacks Teen For Use Of N-Word, But Used It 36 Times Himself On His Last Album!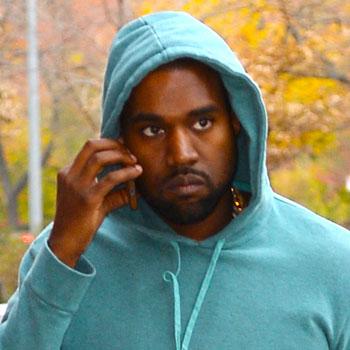 An L.A. teen's alleged use of the N-word ended in his assault Monday, according to reports, after Kanye West allegedly attacked him for uttering the racially charged phrase in front of his fiancee Kim Kardashian. While the exact nature of what happened is still in dispute, one thing is for certain: The teen could have been excused for thinking the use of the term would fly with the couple since West is a frequent proponent of the "N-word," dropping it 36 times on his last album alone!
Article continues below advertisement
According to published lyrics from West's "Yeezus," the 10 songs on the album have 36 mentions of the word "n***a," with just two songs having no mentions and one, "New Slaves," having ten. And this album is hardly the exception. One of West's biggest hits is 2011's "N****s In Paris."
Rapper Chuck D actually called West out on his controversial use of the N-word last spring. The hip hop icon complained about being called an N-word by a white fan while overseas, and tweeted that he was constantly "telling these folks that we are African NOT Ngrs In Paris … why I gotta travel PlanetEarth cleaning sht from USA?"
A few months later, however, a clearly unfazed West was widely slammed on Twitter for dropping countless N- and F-words during his performance of "Black Skinhead" and "New Slaves" at the MTV VMAs.
Still, despite his familiarity with the controversial term supposedly hearing it secondhand was enough to set him off on the alleged attack Monday afternoon, according to reports.
Do you think West is a hypocrite? Or was he rightfully angry and defending his fiancee? Let us know in the comments!