Ignorance & Hatred Alive & Kicking In The USA: Shocking Peek Inside Mississippi's Thriving Ku Klux Klan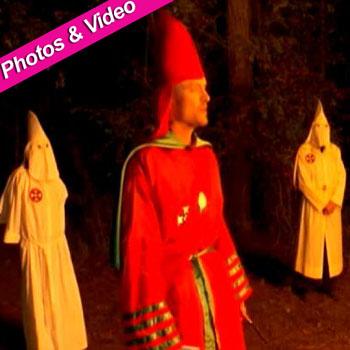 It seems ignorance and hatred is still alive and kicking in modern day America.
A shocking series of documentaries has revealed how the Ku Klux Klan is still in existence, and even thriving, in Mississippi and Virginia.
The eye opening footage, of which RadarOnline.com has a sneak peek, takes an in depth look at the racially charged hateful extremists who rarely open their doors to outsiders.
Article continues below advertisement
While the KKK, as they are more widely known, were believed to have thankfully all but died out, the short films aired by ABC's Nightline prove otherwise.
One scene shows a group of men and women dressed in white robes, complete with hoods to hide their faces, marching and chanting "white power" around a burning cross.
The Mississippi White Nights of the Ku Klux Klan are believed to be the only group in the state, but are recruiting all the time.
The group's leader, Grand Wizard Steven Howard, believes he has no reason to be ashamed of his bigoted hatred and does not have to hide -- even letting cameras film his family, including his 11-year-old daughter who was given her first KKK robe for her eighth birthday.
MEL AUDIO TAPE #1: Mel's Racist Rant
"Black people and white people are nowhere related," Howard declared. "In my opinion, black people evolved from animals. That's what I think, they evolved from... apes."
Article continues below advertisement
Howard insists he is not violent but does go on to make horrifically racist and ignorant comments directly to the camera.
"You can't trust a black person as far as you can throw them," he said before claiming he would disown his own daughter if she dated a black boy. "I believe that 100 percent."
He also made startling and ludicrous statements regarding America's first black President too.
"If he gets four more years, Barack Obama will ruin this country. And white people will be in concentration camps and if you don't think that white people can be in concentration camps you are sadly mistaken."