Exclusive
Gabby Douglas' Agent Accused Of Racism And Assault, Loses Lawsuit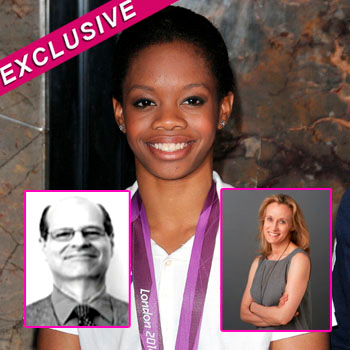 By Amber Goodhand - RadarOnline.com News Editor
Olympic gymnastics gold medalist Gabby Douglas signed with famed athletic agent Sheryl Shade earlier this year, but RadarOnline.com can exclusively reveal a shocking lawsuit riddled with racist remarks and assault that she and her husband lost.
In the original court documents filed on April 3, 2009 in New York City, Sheryl and her husband Matthew Mazer's nanny, Patricia Francois, accused them of assault, battery, negligent infliction of emotional distress, intentional infliction of emotional distress and breach of contract.
Article continues below advertisement
DOCUMENTS: See The Nanny's Original Claim Of Racist Remarks And Assault Against Gabby's Agent And Hubby
"Plaintiff's employment came to an abrupt halt on December 18, 2008 when she was maliciously attacked by Defendant Mazer, both physically and verbally," the court documents state, noting that Francois had been employed with the family for nearly six and a half years at that point.
"On that day, Defendant Mazer was berating his daughter for failing to rehearse her lines for a holiday skit. When Plaintiff came to Defendants' daughter's aid and attempted to comfort the child, Defendant Mazer called her a 'stupid black b*tch' and told her that he despises her and that he hopes she 'dies a horrible death.' He then slapped Plaintiff hard across her face."
DOCUMENTS: See The Judgment Against Gabby's Agent And Husband
According to the court documents, after a physical scuffle Francois was eventually able to make her way to a neighbor and 911 was called. Francois decided against pressing charges at the time because she didn't want Mazer's daughter "to have the trauma of seeing him arrested and taken away in handcuffs" and Shade was out of town on business so there would be no one to watch the little girl.
Article continues below advertisement
"As a result of this attack, Plaintiff suffered a black eye, and a cut and contusion on her hand. She also suffered severe bruising on her face and pain in her back," the complaint states.
"For several days, Plaintiff experienced headaches and blurry vision. For approximately one week after the incident, Plaintiff had difficulty moving about because of the pain."
After years in the court system, there was a trial in June 2012 in which a jury found in favor of Francois and awarded her various settlements for her numerous claims.
"Judgment is hereby entered for plaintiff Patricia Francois against defendant Matthew Mazer on plaintiff's assault claim in the amount of $5,000," the judgment reads.
Francois was also awarded $6,400 for her overtime claims, $2,550.72 for her spread of hours claim and attorneys fees — which "are somewhere between $72,000 and $73,000," her legal team told RadarOnline.com.
As RadarOnline.com first reported, the Olympic sweetheart was caught in the middle of her parents feuding over who would manage the tens of millions of dollars Gabby's sure to earn following her gold medal success.
Article continues below advertisement
However, a family insider exclusively revealed that any lucrative endorsement deals Gabby earns — in which her agent, Shade, will surely play an integral role — will be put into a trust she can access when she finishes college.
The firm representing the Mazers later told RadarOnline.com:
"My clients, the Mazers won and feel vindicated after three years of litigation and eight days of trial. The jury deliberated over three days and came back with the finding that Mr. Mazer did not make racial statements, did not physically strike Ms. Francois, did not commit battery, and therefore dismissed her claims of battery and intentional infliction of emotional distress. The jury found both Ms. Francois and Mr. Mazer at fault with respect to the assault claim, in which both parties were engaged in a verbal argument."