Ryan Lochte's Sister Goes On Racist Rant, See The Video!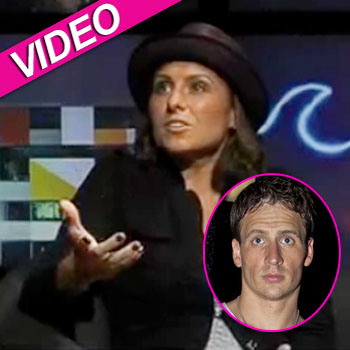 By Amber Goodhand - RadarOnline.com News Editor
Ryan Lochte's sister appeared on a local Maryland late night talk show in 2008 after attending the Olympic Games in Beijing with her brother and had nothing but racist and degrading things to say about the Chinese and RadarOnline.com has the video.
Megan Jean Lochte Torrini, who was famously photographed partying with Ryan in London during their Olympic celebration, uses the slur "chink" at least six times while chatting with Mickey Cucchiella on his show Closing Time, and said they "drive like ninjas" and even goes so far as to say the Great Wall is misnamed.
Article continues below advertisement
The footage is nearly five minutes long in which Megan immediately starts out saying, "We were there for over a week. China was chinked out… Chinks everywhere."
After Mickey attempts to correct her for using such a derogatory slur, she argues, "But it like, fits them, because they're like, chinks."
Megan says the Chinese are great drivers and even says they "drive like ninjas," but Mickey points out ninjas are Japanese.
"They're whatever we want…they're Asian," Megan snaps back.
Megan goes on to make fun of the food in China and their passive nature stating, "We could go in there and take over! But then I don't know about the commies over there, so…"
Mickey tries his best to guide the conversation elsewhere asking if she saw the Great Wall of China — to which Megan again uses the opportunity to take a stab at the country.
"The Great Wall is misnamed. It should be called like, f**king huge OCD fence," she says.
As far as we know Megan hasn't done any interviews yet about her experience in London this year for the Olympic Games.