The-Dream Defends Gwyneth Paltrow In 'N-Word' Controversy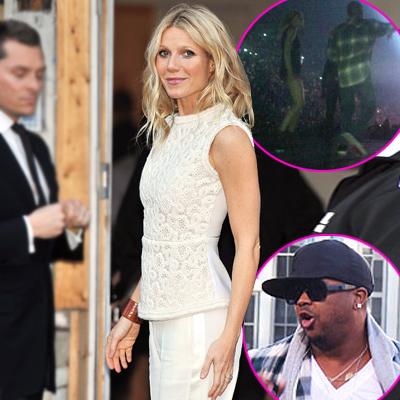 The-Dream is coming to the defense of Gwyneth Paltrow by claiming it was him, and not her, who tweeted the "N-Word' during a concert in France.
The Oscar winning actress was slammed by fans after a picture of herself dancing on-stage with Jay-Z and Kanye West at a concert in Paris appeared on her Twitter page. The caption read: "N***as in paris for real". ( The caption is a reference to the song 'N***as in Paris' of the Jay-Z/Kanye West album Watch The Throne.)
Article continues below advertisement
In response to a storm of criticism, Paltrow tweeted: "Hold up. It's the title of the song!"
However, in a curious twist, The-Dream, who was on stage with Paltrow when the controversial Tweet was sent, claimed it was him, and not Paltrow, who posted the message.
When a fan tweeted to him, "You know you are not supposed to use that word right?" The-Dream replied, "Fyi Sorry for the Confu I typed Ni**as in paris for real from Gwens Phone my bad I was Fkd up please excuse it! We were lit!"
When the flood of negative feedback continued, The-Dream then posted a series of rants defending himself. "Ni**a doesn't have any power over me which is why this will be the last thing I say about it. A word means something when u react to it!" he posted in one message.
He added, "Context is everything. Meaning it in the context as a Song which is how we Sold it to the world!!!!!! it is what it is. I've seen people not use the Word at all and have been the most racist people rather than use it in the context as the song it self. Actually Ni**az was in Paris! Lol stop wasting gods time Do something with your life! Love not War."
Article continues below advertisement
"A(nd) Again I take full Blame! Trust me if I felt a mfkr was trying me on that Tip that was that close to me I wouldve been arrested. Be Nice." Without mentioning Paltrow by name, he later posted, "Sure Attack her you know she's not going to do anything, you know in your heart she didn't mean it in anyway."
"The world is just full of Bull s***ters who act like they give a s*** haven't did one righteous act in there lives. Its a Hot Topic because people aint got s*** To Do! Period. Say what u want. No one called Trayvon Ni**a before he shot him it was an action. Racism is an Action!"