Kim Kardashian Sports Long Face Down Under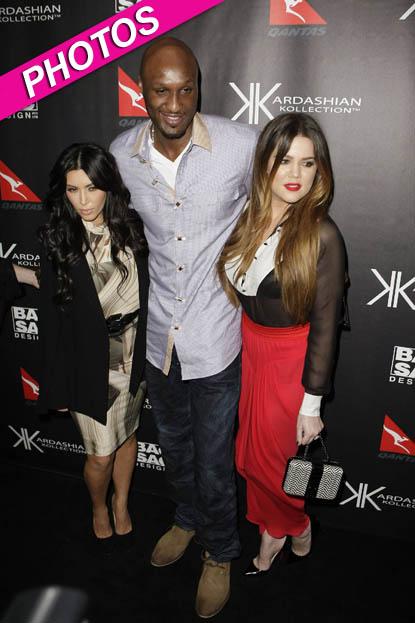 Kim Kardashian sported dour, pouty and downright sad facial expressions as she appeared at Sydney, Australia's Hugo's Lounge Wednesday to promote the launch of her Kardashian Kollection handbags, and RadarOnline.com has the pics.
Less than 48 hours after filing for divorce from husband Kris Humphries, Kim could not manage a smile as she posed alongside her sister Khloe and brother-in-law Lamar Odom (who, like Humphries, is an NBA power forward locked out of work as the league's labor negotiations continue). Former Spice Girl Mel B was also on hand at the event.
Article continues below advertisement
Kim, who was only married to Humphries for 72 days, issued a statement on her website Tuesday in which she responded to stinging reports the marriage was just a ruse to attract attention, ratings and revenue.
"I am trying not to read all the different media reports but it's hard not to see all the negative ones," she wrote. "First and foremost, I married for love. I can't believe I even have to defend this. I would not have spent so much time on something just for a TV show! I share so much of my life on a reality show, that contemplating whether to even film my wedding was a tough decision to make, and maybe it turned out to not be the smartest decision. But it's who I am!
"I got caught up with the hoopla and the filming of the TV show that when I probably should have ended my relationship," Kim, 31, wrote. "I didn't know how to and didn't want to disappoint a lot of people.
"There are also reports that I made millions of dollars off of the wedding. These reports are simply not true and it makes me so sad to have to even clarify this. I'm so grateful to everyone who took the time to come to my wedding and I'll be donating the money for all the gifts to the Dream Foundation."
Article continues below advertisement
As we previously reported, Hollywood attorney Laura Wasser will represent Kim in the split; the duo reportedly has a prenuptial agreement in place.
Kardashian and Humphries tied the knot August 20 in a lavish wedding with stars like Ryan Seacrest and Lindsay Lohan among the 400 in attendance. The TV special chronicling the nuptials, E!'s Kim's Fairytale Wedding: A Kardashian Event, aired last month to huge ratings, averaging 4.4 and 2.7 million viewers, respectively, on consecutive nights.