Exclusive
Abuse Claims From Camille Grammer Are 'Blatant Lies' Says Ex Dimitri Charalambopoulos — See The Text Messages That Allegedly Sparked The Fight!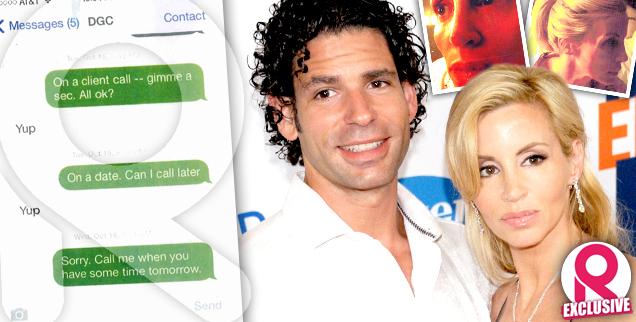 Camille Grammer's ex-boyfriend filed a lawsuit at the beginning of June claiming her abuse allegations weren't true, and now RadarOnline.com has exclusively obtained the text messages between Dimitri Charalambopoulos and "the other woman" that allegedly sparked the physical fight.
"This has been a traumatizing nightmare. I hired an attorney to file a lawsuit because I felt that was the best way to clear my name and move on with my life," Charalambopoulos told RadarOnline.com in an exclusive interview.
Article continues below advertisement
The lawsuit, filed on June 2 with the Dallas County Court in Texas, reveals new evidence that Charalambopoulos feels will show text messages from the night of the alleged incident with another female were nothing but vague and platonic.
Additionally, RadarOnline.com obtained copies of text messages from Grammer to Charalambopoulos in the days leading up to the Oct. 16 event in which she's nothing but loving with him, gushing that she's "so excited to see you today!! Yay" and greets him with two morning texts reading, "Good Morning handsome" and "I love you."
As RadarOnline.com previously reported, Grammer claimed in her declaration that "was wakened at approximately 1:30 a.m. on the morning of October 16, 2013, by Mr. Charalambopoulos's mobile phone, which was vibrating with incoming text messages and phone calls from another woman. Inquiry escalated to argument…"
But what was not reported was that the text message received by Charalambopoulos was from the very woman that assisted Grammer in being admitted into M.D. Anderson Hospital in Houston, his attorney told RadarOnline.com.
Article continues below advertisement
"Grammer was fully aware that Dimitri was corresponding with this woman, and in fact, requested Dimitri to contact her to assist in getting the cancer treatment Ms. Grammer desired," his camp told RadarOnline.com.
One of the text exchanges in question can be seen below: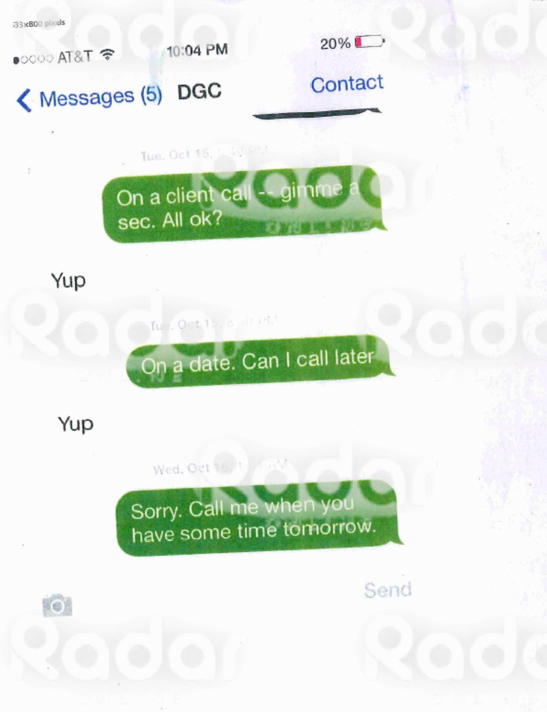 A grand jury issued a "no bill" on May 28, 2014, after hearing testimony from Grammer and reviewing all evidence available issued, dismissing all criminal charges against Charalambopoulos stemming from the alleged assault.
"This entire ordeal has been very difficult for Dimitri, and he has been living a nightmare for several months. Dimitri deeply cared for Ms. Grammer while they were in a relationship, even going as far as caring for her after her surgery," Charalambopoulos' attorney, Guy Fisher, told RadarOnline.com.
"Dimitri's reputation has been ruined by Camille Grammer's spreading of these false and defamatory statements about an assault and a later stalking incident which never occurred. Dimitri is ready for the public to hear his side of the story."