Does It Run In The Family? Brother Of Camille Grammer's Ex-Boyfriend Is A Violent Criminal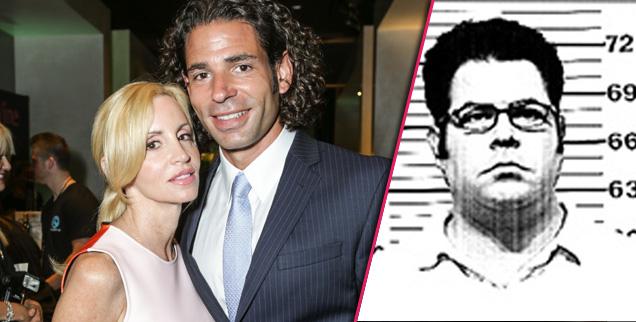 The brother of the man who is alleged to have beaten Camille Grammer is a violent criminal who was once accused of raping a stripper and convicted of aggravated assault for knifing a man, RadarOnline.com has learned.
Bankruptcy lawyer Dimitri Charalambopoulos has been ordered to remain more than 100 yards away from the Real Housewives of Beverly Hills star and her children after an alleged violent confrontation between the pair in a Houston hotel room on October 16.
Article continues below advertisement
Listen! 'RHOP' star Wendy Osefo breaks down the "most intense fight in the show's history" in under 2 minutes.
It left mother-of-two Grammar with "bruising on my wrists, a large contusion on the side of my head, and scrapes and abrasions to my face and arms," according to court documents filed on Tuesday.
It's also left many fans online to question whether the supposed violence runs in the family.
Dimitri's brother Tommy -- known as "Tommy C" – is a Dallas strip club entrepreneur with a lengthy and violent rap sheet, RadarOnline.com has confirmed.
Thomas earned the nickname "The Ripper" for viciously knifing a man at the Silver City Strip Club.
He was also accused of raping and sodomizing a dancer at the club in 2003 and has been convicted of drunk-driving and unlawfully carrying a weapon.
The stripper declined to prosecute after initially filing a police report.
Four years later, though, the brute was convicted of aggravated assault for viciously knifing a man, slicing him from stomach to shoulder. He received just 10 years probation and a $10,000 fine.
MORE ON:
Dimitri Charalambopoulos
Article continues below advertisement
The police report, at the time, said: "The cut to the comp's chest and abdomen was massive and allowed the comp's intestines to spill out his abdomen onto the floor. The comp's intestines were also lacerated. Det Detective has not been able to establish why the comp was assaulted and self defense does not appear to be a motive."
According to a report in D Magazine, the Dallas nightclub was said to be one of the worst in the city -- a major problem being the brother of Camille's ex, who was described as "an imposing man, 6 feet tall and 250 pounds."
He also got probation for his DUI and unlawful firearm convictions.
Camille and Dimitri's dispute is said to have sparked over a phone call and text message from a mystery woman. It occurred just four days after the reality star had a hysterectomy.
"He squeezed my nose between his finger and pushed upward forcefully, covering my mouth in an attempt to silence me to prevent me from breathing," Camille, 45, claimed in her successful application for a temporary restraining order.
"He was repeatedly slamming my head and face into the furniture and completely immobilizing me."
Camille even claimed Charalambopoulos taunted her into calling the police, charging: "I wanna smash your head in. I'll give you a reason to call the cops."
A hearing on November 19 will determine if the restraining order will be made permanent.