Exclusive
Cheating Already? 'RHONY' Dad George Teichner Has A Cringe-worthy Match.com Profile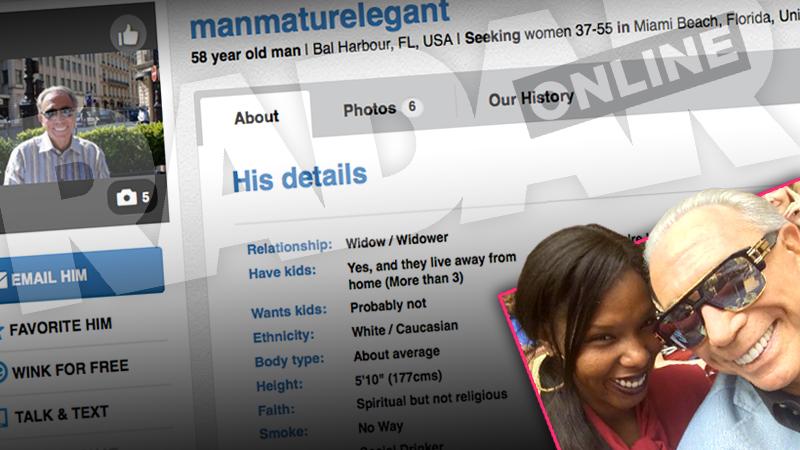 Article continues below advertisement
Listen! 'RHOP' star Wendy Osefo breaks down the "most intense fight in the show's history" in under 2 minutes.
Drescher's dad, who lives in Bal Harbour, Florida, went by the name "manmaturelegant," and admitted on his profile that he's a widower, has more than three children, is spiritual, drinks socially, and likes dining out and exploring new areas. The Virgo also says he exercises five or more times per week and is the ultimate non-confirmist.
But what really stands out for the French-speaking ladies man is what he claims as his age and what he divulges about sex — and his penis!
Teichner lists his age as 58 — a whopping 20 years younger than his real age. But he has an eloquent answer for that discrepancy, stating in his bio that he's "a bit older than my listed birthdate. Inasmuch as I fit into a more physically sic/energetically/emotionally… much younger age appropriate demographic than my chronologic age; I felt compelled to do such…"
Article continues below advertisement
But he is brutally honest when it comes to his genitals, confessing, "Fret not, I am only divested of my foreskin, not pruned as an Eunoch."
And it wouldn't be a proper get-to-know-you without the horny reality star talking about sex, of course.
"Sex is important; as is post coitus, repose/intimacy… seeking to listen to the breathing of a beloved woman sleeping at my side in the watches of the night, whilst admiring her array of physical attributes," he writes online.
When confronted by RadarOnline.com, Teichner confirmed that the account was his, but insisted he was happily engaged and had not used the profile for years, despite his listed recent activity.
"Match is a business — it will do all sorts of trickery in pursuit of lucre," he claimed. "I haven't subscribed to Match for many years, nor communicated to Match, nor any of its profiled lovely lasses."
But he told RadarOnline.com that he stood by everything the profile said.
Article continues below advertisement
As for his "maturemanelegant" username, he explained, "In this incarnation and dimension I was birthed and born into the male gender, and burgeoned into a man, with age comes maturity. Elegance of dress … qualities and manners, gracefully refined, graceful in sexual form and movement, and dignified in tastes. In essence-a 'refinement.'"
And what does his fiancé Dana Cody think of his public sex talk?
"Guess what?" Teichner told RadarOnline.com. "Dana Cody is a child of the universe and there is a reason for us to become married … to continue the journey into ecstasy, that is the aim of marriage, and children retain its joy."
"Dana is in a much younger age-appropriate demographic than my clock time age," he said. "Our coupling time-frame of reference is in 'Nonlocality' in which our awareness transcends ordinary understanding of space and time."
So, for all those curious female suitors, they'll just have to settle for learning more about the taken and outspoken entrepreneur on his personal account, where -- as fans have seen on the hit Bravo show -- his favorite hot spots are "first class anywhere" and favorite things include "the euphoria and butterflies that go with getting through the night with a female mate and unfettered indulgence."