RHONY's Aviva Drescher Claims, 'Luann Has Been Desperately Trying To Stir Things Up And Start Fights'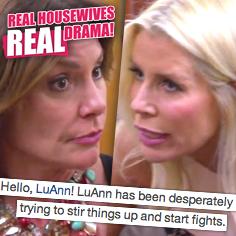 After the latest episode of the Real Housewives of New York City, Aviva Drescher feels that LuAnn de Lesseps is out to get her, according to her latest blog post.
LuAnn hosted a charity luncheon with Hollywood Life's Bonnie Fuller, and much to the housewife hostess' chagrin, Miss USA showed up – allegedly invited by Aviva. Even though Aviva claims she didn't invite the recently crowned beauty pageant winner, LuAnn feels differently.
Article continues below advertisement
But, as Aviva writes, "being a Real Housewife means to be in a constant state of PMS fury," meaning that there would be drama regardless of who invited whom. For the record, Aviva claims it was Fuller who invited Miss USA.
Because it was a charity luncheon, Aviva doesn't understand the big deal about Miss USA attending. But according to Aviva, it really doesn't matter what the truth is.
"In Housewifeville, we don't let the truth distract us from our attacks," she writes.
The drama never lets up, as LuAnn finally confronts Aviva about the luncheon debacle, and Aviva feels that the Housewives always take LuAnn's side.
"LuAnn didn't have any trouble rallying the clique at my party to join her on the chorus," she writes. "Then it becomes my word against theirs and I'm overwhelmed. It doesn't matter that the truth is right up there on the screen."
So Radar readers, whose side are YOU on?