Exclusive
Countess LuAnn De Lesseps Slams Sonja Morgan For Not Supporting Her Clothing Launch: 'I Was Hurt That She Did Nothing For Me'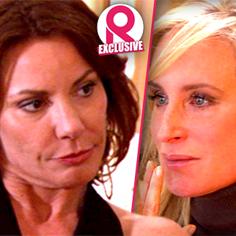 Article continues below advertisement
"I was hurt that Sonja not only did not do anything for me, she put something out on her own style and fashion," de Lesseps exclusively told RadarOnline.com. "I felt bad. I felt like this isn't the friend that I know."
De Lesseps felt like her friendship with Morgan was a façade.
"Sonja and I have always been really close and I have always been there for her," she said. "So I was just surprised that she was not supportive of this big day for me."
Morgan didn't step up at all.
"Not only was it the launch of my brand, it was my birthday," de Lesseps said. "Andy Cohen, Kelly Bensimon, even Jill Zarin put it out there for me and were very supportive. It just hurts that she didn't do anything."
De Lesseps was even more upset when Morgan posted a message on Instagram about her own person style and fashion expertise on the same day that the Countess' line launched.
Article continues below advertisement
"After becoming a star of The Real Housewives of New York I have been sharing my fashions on screen, continue to attend Fashion Week, giving style musings to Star Magazine, turn it out for my favorite and most worthy charities, grab a cover for a magazine here and there and manage to still garner a corner of legendary Bill Cunningham's New York Times Sunday Styles from time to time," Morgan wrote. "It's not over til the fat lady sings! #RHONY #fashion #style #LeopardIsMyNeutral"
This didn't settle too well with de Lesseps.
"She had to add salt to injury by trying to plug her own style and fashion," she said. "It was pretty hurtful."
But despite her hurt feelings, de Lesseps hasn't said anything to Morgan about the situation.
"I had such a bad taste in my mouth, I just didn't know what to say," she explained.
"We've been friends for a long time, and have always been close, but it has been strained recently," de Lesseps went on to say. "I know she's had a lot of problems and a lot of issues going on, but I've always been there for her. I was surprised when she wasn't there for me."
So how did Morgan feel about the situation?
"Of course I am supportive of the Countess LuAnn Collection," Morgan told Radar. "I emailed her the past couple of weeks specifically to ask her the exact name of her collection so I could include it in my Bravotv.com blog. My interns choose weekly the top three fashion picks on each episode and LuAnn was selected two weeks in a row."
"I read LuAnn's book cover to cover and have talked about it on the show and highlighted her dinner-wear on the show by pointing it out in upcoming scenes and have always supported her singing ventures," she added. "I do what I do naturally because I do it from my heart. So LuAnn knows I am very supportive."