Exclusive
Ramona Singer Is 'Not OK' & 'Needs A Reality Check!' Countess LuAnn De Lesseps Reveals Cast Staged Secret Intervention Over Glass-Throwing 'RHONY' Star's Anger Issues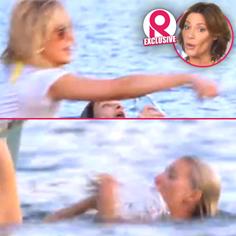 Article continues below advertisement
Discussing the dramatic glass-smashing incident, de Lesseps told Radar, "I think it's a horrible reaction to somebody splashing you. I think it's over the top. You don't ever throw anything in anybody's face where I come from, where most people come from."
While that dust-up caused a major ruckus among the cast, the drama didn't end there. When Singer left the trip unexpectedly, all of the women found out that Singer had actually flown to the Hamptons to party after pretending to leave because of her emotional trauma — and they were not happy.
"I thought that it was pretty rude to leave all of your friends and buzz off to the Hamptons," de Lesseps said. "She shouldn't have come if she didn't want to come."
Concerned about Singer's increasingly out-of-character behavior, the cast stepped in.
"We staged an intervention to put her and her behavior in check," de Lesseps revealed. "She needs anger management. She needs a reality check."
"Because we just feel like as a group that she put this out there and it's not okay to throw glass," de Lesseps explained. "And it's not okay to lie to your friends. So we feel like it was time for this to stop."
Article continues below advertisement
This intervention has been a long time coming as Singer has always had emotional outbursts throughout the history of RHONY.
"That's why it's time to stop," de Lesseps said. "That's why we all banded together to say, 'Wait a second. This is not normal behavior. You need some anger management, some therapy, something to control your outbursts.'"
De Lesseps also didn't think that Singer was sincere about expressing remorse for what she did to Taekman.
"I think she overreacted and I do feel like she does feel bad, but I don't feel like she's being sincere because I don't think she really cares that much," de Lesseps said.
"She was receptive to the intervention, but whether she is going to do anything about it is a whole other story," de Lesseps added. "It's like teenager who says, 'Yeah mom, I'm going to do it.' Let's see how she is going to digest it and put her words to action."
Article continues below advertisement
De Lesseps isn't the only person to speak up about Singer's need for help. In a preview for the upcoming episode of RHONY, Taekman met up with Heather Thomson to discuss the Singer problem.
"Ramona threw a glass at my face and cut my lip," Taekman said to the cameras. "And let's be clear, she did all of this because I splashed her and got her hair wet! I mean, she's got some major issues that need to be dealt with."
Thomson agreed.
"What happened with you takes it to a whole new level," she said. "It's ridiculous to get that angry over your hair and then crocodile tears. That was a lot."
Watch the video and let us know what you think of Singer's behavior: