Exclusive
Verbal Abuse, Violent Rages & Cocaine Addiction -- Ramona Singer's Sister Reveals How Secret Family Past Scarred 'RHONY' Star For Life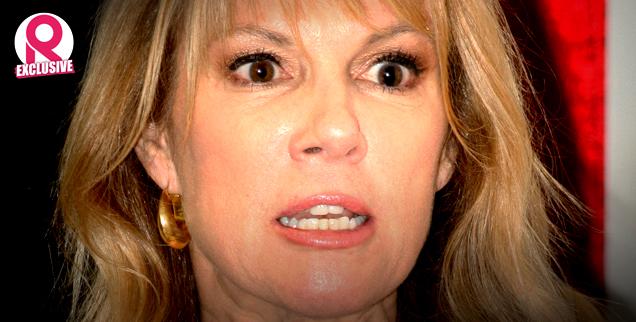 The outspoken and strong willed Ramona Singer was brought to tears during her weekend getaway to the Berkshires, admitting that being in the woods brought back painful childhood memories about her alcoholic father's abuse. Real Housewives of New York City fans will witness Singer's meltdown during Tuesday's all-new episode, and now her sister Sonya Mazur, speaking exclusively to RadarOnline.com, is shedding light on what it was like to grow up with an abusive alcoholic father.
Article continues below advertisement
"Growing up in my family was very tough, just as Ramona has said. My father was an alcoholic, and he was very verbally abusive on a daily basis. Although he had his good moments, he had bad moments," Mazur told Radar.
Singer has been vocal about childhood, saying during the Bravo show, "I believe my father moved us to the country, so he could hurt my mother and the neighbors couldn't hear."
"My father tended to throw things across the kitchen, whether it be a plate, a knife, a glass," Mazur revealed of her father, who is now deceased.
Interestingly enough, Singer found herself throwing an entire wine glass at her co-star Kristen Taekman. "I'm turning into my father," Singer painfully confessed while the Bravo cameras rolled.
After watching the clip, Mazur stood up for her sister, calling the Singer's actions an accident.
"As for the little meltdown… Obviously, those old memories flared up, and it scared her. Ramona is a very strong woman, and she will never become like our father," Mazur said.
Article continues below advertisement
Mazur confessed that her father's abuse, which included cutting her out of the family will, led to her own alcohol and cocaine addiction.
"I felt very angry, very bitter, very sad," Mazur said. "I hated my father for what he did to me on a financial level. I know he cut me out of the will because of my gay lifestyle, which I feel was totally unfair. I was his one of his children."
Although she didn't expand on the extent of her addictions, Mazur claims to be doing much better today.
"As I said, we did have a very tough childhood, but thank God I am doing much better today though the help of therapy and going to AA," she said.
Mazur is currently working on her autobiography with author Sherrie Lueder, who also helped write a book with Singer's brother Bo.