Bloodshed In The Berkshires! Ramona Singer Leaves 'RHONY' Co-Star Kristen Taekman Bleeding After Errant Wine Glass Toss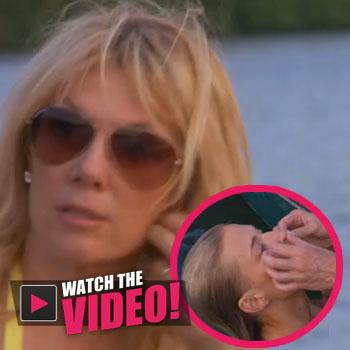 Article continues below advertisement
"Thank you! Thank you. I love you," he said to Thomson, giving her a hug and kiss, as Ramona looked on in disgust.
The scene, which was filmed before news of her husband's infidelity broke, appeared to show cracks in the couple's marriage.
"No one vacations in the Berkshires. No one I know. No celebrities. No one famous. Everyone goes to the Hamptons," Ramona said.
Later, Ramona opened up to LuAnn de Lesseps and Sonja Morgan and revealed the real reason she didn't want to go on the trip.
"Going up there reminds me of going back to where I grew up. It brings up a lot of bad memories of my childhood. I didn't have a great upbringing," Ramona confessed.
"The Berkshires are for people who can't afford The Hamptons," she said, taking a dig at Thomson's digs.
After spending the entire drive complaining about the weekend vacation, she arrived at Thomson's house and asked, "Is this the garage?"
Article continues below advertisement
Ramona continued her obnoxious antics, ordering an air conditioner for her bedroom and continued to whine about not wanting to get wet when the ladies decided to go canoeing.
"Those b*tches were complaining the whole day," Radziwill noted, clearly annoyed to be sharing a canoe with Ramona and Morgan.
Then, Ramona started gossiping about Taekman.
"She's annoying me now. She hasn't socialized with any of us. You don't even know she's there," she said.
Then, she vented about Taekman's husband Josh, saying he bashed Morgan's businesses.
As viewers saw earlier in the episode, Josh tried to mentor Morgan about her work endeavors andfinancial woes, but it didn't quite go as planned.
"You're f*cking bananas," he told Morgan.
After the meeting, he vented to his wife about the meeting: "This woman just doesn't listen … she's delusional! She's out of her f*cking mind. She's crazy!"
Article continues below advertisement
But Morgan admitted the meeting wasn't very productive.
"Josh was bashing you, and Kristen didn't stop him," Ramona said.
When Taekman overheard her co-star gossiping, she tried to playfully splash her with water.
Unable to see the humor, Ramona flipped out.
"That's not nice. Kristen, this is two for two now. You're a f*cking b*tch. Get out of my face," Singer replied, referring to when Taekman playfully splashed her with water during their spa day and ruined her blowout.
Then, for the second week in a row, Ramona threw her drink at the former model -- only this time, she threw the whole wine glass toward Taekman's face.
Taekman looked stunned, as Carole Radziwill gasped: "You're bleeding!"
As she examined Taekman's nose, Radziwill exclaimed: "We have an emergency!"
"Oh my God!" Thomson shouted in the background.
"Kristen thought it was harmless, good fun -- little did she know it would turn into a blood bath," de Lesseps said.
"I did it to you b*tch on purpose. It's just a little blood," Ramona told her co-star.
"Ramona is completely out of line," Thomson said.
"You guys are f*cking crazy. I'm out of here," Radziwill said to Ramona and Morgan as she jumped out of her canoe.
"She's had it f*cking out for me since day one," Taekman told her co-stars.
Meanwhile, Singer and Morgan bolted, leaving Taekman bleeding in the water.
"I got provoked. Was it the right thing to do? No. But don't mess with me. I'm out of here," Ramona said.