Exclusive
Sonja Morgan Apologizes To Countess LuAnn de Lesseps Over 'LuMan' Jibe: I'm Sorry … That I Got Caught!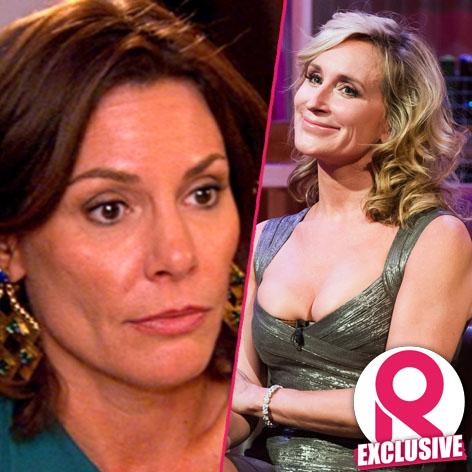 Article continues below advertisement
"I do regret that my comment was filmed and that LuAnn had to hear me call her LuMan because I know she hates when I call her that," Morgan told Radar. "But even though I said she was a drag queen trapped in a woman's body, I didn't say she was a woman trapped in a drag queen's body."
Still, Morgan insisted she had reason to get feisty towards her friend after she failed to stand up for her when Ramona Singer mocked her notorious "cabralesque" performance in the Hamptons.
"I needed LuAnn to be supportive of my sing-song skit I wrote and chime in and say, 'Sonja has always been a performer, comedian. Why are you saying she's not a comedian?'" Morgan said. "Since my pageant days, I've always excelled in the talent portion."
"I needed LuAnn to chime in at that moment at the cocktail party and exhibit her Miss Congeniality side and not her drag queen height and booming voice saying, 'Sonja, you could have been more polished,'" Morgan continued. "That's not what I needed because it wasn't a Broadway show. It was a charity event for LGBT youth. If it were more polished, we wouldn't have had any money left for the charity."
Article continues below advertisement
But de Lesseps' stance was almost expected, she admitted.
"I was so pissed off at LuAnn because I know when I have a tiff with Ramona Singer, she's not going to be supportive," the housewife said. "She loves when I have a tiff with Ramona."
"She has her own love-hate relationship with Ramona," Morgan said. "And when she sees me have a tiff with Ramona, that's how much closer I am to her."
But despite the controversy on the show and the disapproving comments de Lesseps made on Watch What Happens Live, Morgan claimed that she and her costar are still friendly today.
Check Out Radar's Exclusive Pics of Sonja and Ramona's Girls Night Out
"LuAnn and I have been friends for seven years now," she revealed. "I accept Luann the way she is. She accepts me the way I am. I can be myself around her."
She added, "She's so tall with that deep sexy voice so it is easy to call her LuMann, but she's a beautiful lady as we all know."
Morgan concluded by offering an apology to de Lesseps for her comments.
"Lu Lu, I'm sorry that you heard me say that because I know you don't like me to call you LuMan," Morgan said. "I flew off the handle, took a little too much comedic license when I felt you and Ramona were not being supportive of my charity and 'Sonja In The City' cabralesque event. I worked hard to get that all together in a huge airplane hanger, all while filming."