Exclusive
Frick And Frack Drama! Housewife Sonja Morgan Claims, 'Ramona Singer Is No Fashion Expert ... I Am!'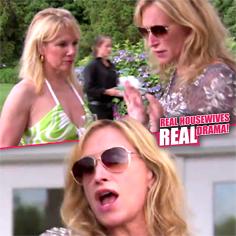 In the world of The Real Housewives of New York City's frick and frack (Ramona Singer and Sonja Morgan), drama always seems to be at the forefront — and in the past episode, the troublesome twosome got into a heated fight when Singer didn't show support for Morgan's cabralesque show.
"Ramona knows how important it is for me as an artist to be able to express myself and I do that by writing self deprecating comedic sing-song skits," Morgan told RadarOnline.com of their recent on-air war of words.
Article continues below advertisement
"And she knows that I've been doing this since I was a young girl, performing in pageants. They didn't call me the straw that stirs the drink for nothing."
In the episode, Singer claimed that Morgan spreads "herself too thin."
"Me spreading myself too thin?" Morgan asked. "I don't think Ramona's in France developing her cream and I don't think she makes wine for a living or is a distributer."
Morgan also feels the same way about Countess LuAnn de Lesseps, who didn't stand up for her during her fight with Singer.
"I don't think LuAnn studied plastic wear for her life and I don't think she studied how to make dresses her whole life," she said.
Mogan thinks that she is the one that holds the key in the fashion industry as opposed to Singer and de Lesseps.
"I'm the one that went to FIT," she said. "I'm the one who is an expert in Fashion Lifestyle."
"I'm an expert at what I do," Morgan continued in the exclusive interview with Radar. "I do my fashion lifestyle brand every day, all day long."
Article continues below advertisement
Morgan specifically disapproves of Singer's fashion sense.
"She is not a fashion expert," she said. "She loves wearing shiny blue dresses. She's not a fashion expert… I am. She's a merchandizer, and quite the comedian herself. "
Check Out Radar's Exclusive Pics of Sonja and Ramona's Girls Night Out
And in the end, Morgan thinks that if Singer and de Lesseps tried to pull off what she does on a baily basis, they would get lost.
"I'm the one who had 5 houses and a yacht and ran them. I'm the one that built the houses and gardens from the bottom up. I built and sold houses as investments. I have a house in France that I'm running as a business. I have a 5-floor townhouse. I had 75 employees and 13 in crew on the boat, so I don't think I'm spread too thin right now," she said. "I produced a multi-million dollar film that won two awards. I'm managing and developing my virgin brand just fine right now."
"I like to do things right and I will put my name on what is right when I am ready and when it feels right," Morgan added. "I think that maybe if they wanted to try to do what I'm doing, they'd be spread a little too thin."
Now the popular Bravolebrity thinks it's time for her friend Singer to get over the curve and accept Morgan for who she is.
"I've always accepted Ramona the way she is and I think she should accept me the way I am and continue to accept me the way I am," Morgan said. "I've always been like this since the day she met me."