Sonja In Denial? 'RHONY' Star Refuses To Sell Manhattan Townhouse, Despite Filing For Bankruptcy & Losing $8.5M Lawsuit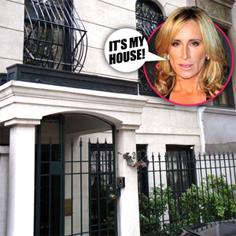 Although Sonja Morgan filed for bankruptcy after suffering a huge legal and financial setback, The Real Housewives of New York City star denies that she'll be forced to sell her beloved townhouse.
"Lady Morgan's house is not crumbling down. Being in a Chapter 11 doesn't mean that I cant pay my bills or spent money that I don't have. Chapter 11 is a restructuring of your assets -- not a liquidation," Morgan wrote on her Bravo blog.
Article continues below advertisement
As RadarOnline.com previously reported, Morgan was successfully sued by Hannibal Pictures for failure to raise money for a film involving John Travolta — and the reality TV star was forced to file for bankruptcy because of the $7 million judgment — which reached a staggering $8.5 million total with interest and attorneys' fees included.
"When I was in the movie business I gave hundreds of people jobs, and some at very high salaries. When one movie deal memo went sour, I got this judgment against me and filed the Chapter 11 to protect and restructure my assets.
"It's a risky business," she added. "It has not been easy dealing with everything that is on my plate."
Morgan called the lawsuit "very unfortunate" and shot down reports that she'd have to sell the five-bedroom, Upper East Side home she purchased with her ex-husband, J.P. Morgan heir John Morgan.
"I have been separated from my ex-husband since 2005, when my daughter was five years old, and my goal has always been to main stability for her in her childhood home. That I have done… I am selling my house in France and keeping my daughter in her childhood home in New York," she said.
Despite her positive outlook, Morgan's East 63rd Street townhouse is listed on StreetEasy.com, but the star denies it is for sale.