Sex, Drugs & Housewives! Lady Gaga Goes There -- And Then Some -- In Racy 'WWHL' Appearance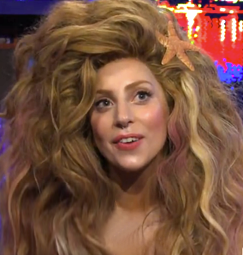 Lady Gaga sat down with Andy Cohen for a no-holds-barred interview on Wednesday's edition of Watch What Happens Live, and we've got all the details of the outrageous appearance right here on RadarOnline.com.
The 27-year-old Grammy winner, on to promote her new album ARTPOP, was candid about everything from sex to drugs to Miley to NeNe, answering all of Andy's questions no matter how touchy the topic.
Article continues below advertisement
During the show's quick-hit Plead The Fifth segment, Cohen pried at the eccentric songstress about her personal life, coyly referencing a line from her song LoveGame to extract the dirty details.
"What is the most interesting place you've taken a ride on a disco stick?" he asked the New York-born singer, who said her "most fun" instance of doing the deed took place "on the floor, in the grass."
Cohen parlayed a reader's question asking the singer which woman she would hook up with, to which she went on an extended rant about her bisexuality.
"Well, I've taken a few dips in the lady pond. I like girls, I've said that. I know people think I just say things to be shocking, but I actually do like p***y. It just depends on whose p***y it is," the Born This Way singer said. "For me, it's similar to how I feel about guys. It's more of an energy thing. I used to go to lesbian clubs all the time. I like them because I find lesbians to be way more daring than straight men, when it comes to coming on to you. And I really like that.
Article continues below advertisement
"And it wasn't until I found a guy that could come onto me as strong as a lesbian that I fell in love."
When Cohen asked Gaga when the last time she took the drug Molly was, she said, "I think maybe it's hard to remember," admitting she popped a few during her "raver days."
Still, she cautioned fans to "be careful with Molly." (Sound advice in the wake of two overdose deaths at a Electric Zoo music festival in New York this past Labor Day weekend.)
"If you get to know Molly too well," she joked, "you might turn out like me!"
The pop superstar also touched on Miley Cyrus' controversial twerking incident at the MTV VMAs, springing to the defense of the good girl gone bad.
"I mean, I just think everybody needs to lighten up and leave her alone, because it's pop music," the Telephone singer said. "Everybody's entitled to their own artistic expression, and if you have a problem with it, just change the channel.
Article continues below advertisement
"I just … I don't understand the incessant need to constantly go on and on about hating things all the time because, what, she's 20-years-old? If anything, I give her props: You know, she's growing up in front of the entire world and maybe she's not so happy with stuff she did in her career when she was younger and she wants to be free, so let her do what she wants."
Asked who her favorite Real Housewives are, Gaga said her favorite current cast members are Atlanta's NeNe Leakes and Kandi Burruss; and Beverly Hills' Lisa Vanderpump.
"Mostly cause she doesn't give any f***s," she said of the English restaurateur.
She then delivered her Real Housewives introduction tagline, preening and saying, "They may say I'm a woman, but underneath, I'm all man!"
Watch the video on RadarOnline.com
Watch What Happens Live airs Sunday through Thursday on Bravo at 11/10c.