Justin Timberlake Defends Miley Cyrus' Raunchy VMA Performance: 'She's Letting Everyone Know She's Grown Up'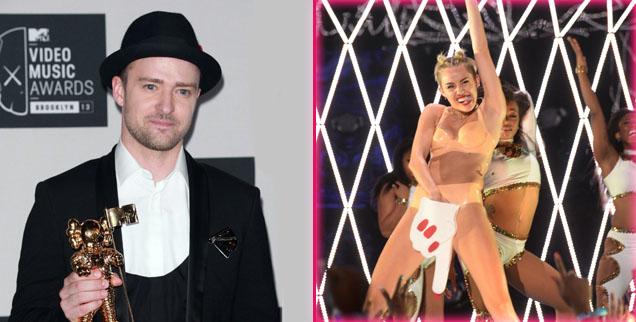 Article continues below advertisement
"She's young, she's letting everyone know she's grown up. It's the VMAs. It's not like she did it at the Grammys."
Miley was slammed by viewers — including Kelly Clarkson! -- after gyrating, thrusting, twerking and grinding all over Robin Thicke while flailing her tongue about during her bizarre performance.
VIDEO: Miley Cyrus Strokes Robin Thicke's Crotch During MTV VMAs Performance
"My favorite part of the Miley Cyrus performance is the Smith family reaction," Justin continued in the interview, referring to a still shot that went viral of Will Smith and his kids Willow and Jaden with their mouths gaping open that was said to be reaction to Miley's performance, but was actually reaction to Lady Gaga's performance.
MORE ON:
Justin Timberlake
"I was late to the game on that. I was just shown that this morning, so it's fresh in my mind."
https://media.radaronline.com/brand-img/wp-content/0x0/2013/08/jt-miley1.mp3
Justin noted that Miley isn't the first artist to do something a little crazy at the VMAs, calling out Madonna, and even his ex, Britney Spears.
"Madonna: Wedding suit, humping the stage. Britney: Strip tease," Justin said.
"This is not an uncommon thing. I actually thought all the bears were really cool!"