Miley Cyrus' BFF Calls Kelly Clarkson 'Fat' And 'Bitter' After She Slams Miley's VMA Performance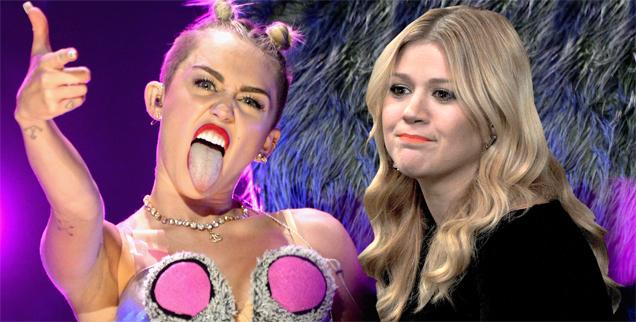 As the world weighs in on Miley Cyrus' Video Music Awards performance — with most of the comments critical — Miley's BFF Cheyne Thomas is sticking up for her in a big way, blasting Kelly Clarkson as 'fat' and 'bitter' after the American Idol alum pegged Miley as a 'pitchy stripper' on Twitter.
"Just saw a couple of performances from the VMAs last night," Kelly tweeted Monday morning. "2 words…. #pitchystrippers."
Article continues below advertisement
In just a few minutes, Cheyne was quick to snap back, responding to a fan who tweeted, "Kelly Clarkson called Miley a pitchy stripper. Do you think she's mad because her past few singles flopped and wasn't asked to perform?" Cheyne wrote, "and she's fat and 30.."
Not content to leave it there, he continued, "the reasons Kelly Clarkson is bitter could really go on for daysic.."
But if Cheyne is planning on taking on all of Miley's critics, he'll be busy for a while. Thousands of viewers -- some of them celebrities -- took to Twitter after the performance to slam Miley's twerk-tastic outing with Robin Thicke.
Judd Apatow tweeted a picture of a more innocent Miley on the front of her DVD So Undercover and captioned it, "I will always have this version of Miley. Let's live in the past and heal."
And E! Online sent out a tweet saying, "Raise your hand if you feel personally victimized by Miley Cyrus' #VMAs performance."
Country star Josh Gracin tweeted, "Thanks Miley Cyrus. Now I have to explain to my 11 yr old daughter why she no longer can follow your career."
Article continues below advertisement
And DWTS alum Melissa Rycroft wrote, "I think I'm too old to appreciate the (ahem) new Miley Cyrus….feeling slightly violated….#VMA."
An image of Will Smith, wife Jada Pinkett Smith and kids Willow and Jaden watching the performance with jaws dropped went viral, although it's since been speculated that the reactions were actually captured during Lady Gaga's performance.
Miley did win one person's approval — she re-tweeted this message from rapper Trinidad Jame$: "Miley is turnt! My ni**a."
Despite the shock and furor over her performance the singer did warn viewers ahead of time that her performance was going to be wild.
Speaking on the red carpet she praised Madonna and Britney Spears who once French kissed on stage during a joint set.
Miley said that the Like A Virgin star "passed the torch by passing the tongue."
She went on to say, "We've got better in store for you guys. It's going to be even crazier than the kiss."
If you missed Miley's controversial performance, check it out below:
radar_embed service=mtvnservices src="http://media.mtvnservices.com/embed/mgid:uma:video:mtv.com:942064/cp~id%3D1712039%26vid%3D942064%26instance%3Dmtv%26uri%3Dmgid%3Auma%3Avideo%3Amtv.com%3A942064" width="512" height="288"