Lady Gaga Rocks See-Through Onesie!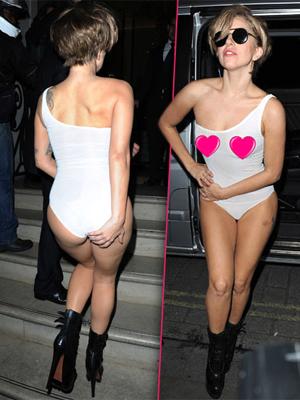 Now we've seen everything!
And we mean literally when it comes to outrageous pop star Lady Gaga, who left little to the imagination in the white see through bodysuit she wore while leaving Boujis nightclub in London after her Itunes performance this weekend.
The top of the onesie was so sheer that we had to place pink hearts over her chest to conceal Gaga's nips!
But Gaga had no need for modesty as she flaunted her body outside the club, vamping for photographers with sunglasses concealing her eyes and her arm over her tummy (instead of her exposed chest!).
Article continues below advertisement
As fans and bodyguards stood behind her looking shocked, Gaga walked up the stairs, where her bodysuit appeared to be giving her a wedgie.
Was Gaga, known for her eyebrow-raising outfits, trying to steal back the indecent exposure spotlight from Miley Cyrus?