Lana del Rey Slams Lady Gaga in New Diss Track: 'You Suck'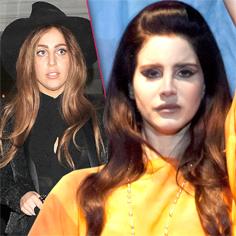 From their humble New York roots to their over-the-top personas, Lady Gaga and Lana del Rey have a lot in common. They even shared the same manager, Bob Leone, in the early days and played many of the same spots as they scrambled to make it big.
So no one was surprised when the two were spotted having slumber party at the Chateau Marmont in 2012. But now, it seems, the friendship is over. Or at least, it very likely will be after Gaga hears Lana's new song, So Legit, which eviscerates the Born This Way singer.
Article continues below advertisement
Recorded as early as 2008, the newly-leaked song includes brutal, personal lyrics about Gaga, born Stefani Germanotta.
"Stefani, you suck," one line reads. "I know you're selling twenty million. Wish they could have seen you when we booed you off in Williamsburg."
"You're looking like a man, you're talking like a baby," Lana sings. "How the f*** is your song in a Coke commercial, crazy? I don't get it. Your taste once so exquisite … How the f*** would you go switch it up and then replace me?"
She asks, "Have we all gone Gaga crazy?"
Neither Gaga nor Lana have addressed the song just yet. Stay tuned to RadarOnline.com for the latest developments, and listen to the song below: