'RHONY' Star Alex McCord's Former Business Partners Shoot Down Jarring Claims She Made In $100 Million Suit, Ask Court To Dismiss Future Litigation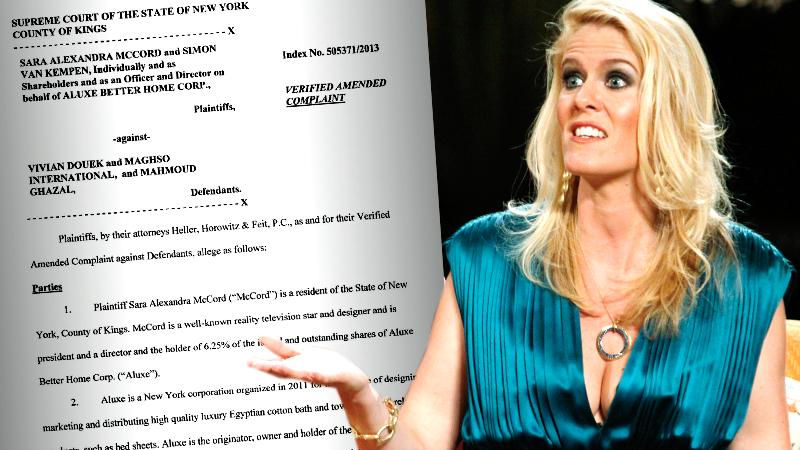 Alex McCord of Real Housewives Of New York fame is in a $100 million lawsuit with a pair of ex-business associates, who claim that the accusations she made in her nine-figure litigation are untrue, and are calling upon the court to throw it out.
The fiery McCord and her spouse, Simon Van Kempen, say their former partners, Vivian Douek and Mahmoud Ghazal, employed nefarious tactics in setting up their own bedding business after they were working with the reality couple on an upscale line of Egyptian bed and bath items called Aluxe.
Article continues below advertisement
They said in previous court docs, that the second company MAGSHO, is "nothing more than a reincarnation" of the one the quartet had previously worked on — including use of the same manufacturers and clientele — save for the reality TV stars getting a piece of the pie.
READ More On The Alex McCord Lawsuit
Douek and Ghazal, in legal docs, refuted McCord's claims, systematically denying the jabs made by the former Bravo personality, only conceding that they had worked together three years ago. McCord's claims she was to function as head of the company, or use her clout to plug it, are false, they said.
In their response, they said they "demand judgment dismissing McCord and Van Kempen's complaint for interest, costs, attorneys fees and any other relief that the court deems just and equitable."
We'll keep you updated on this suit, right here on RadarOnline.com.