A Baby To Save Their Marriage: Troubled Portia De Rossi Reportedly Wants A Baby With Wife Ellen DeGeneres— And Even Consults A Surrogacy Agency!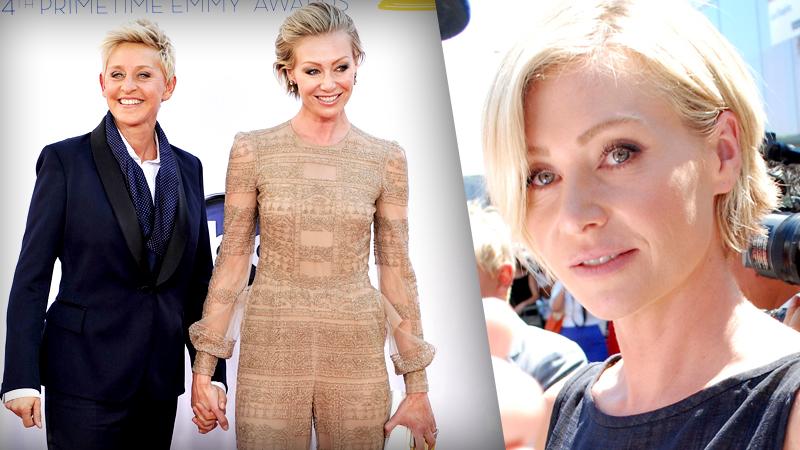 One year after Portia de Rossi vowed she'd never have children with wife Ellen DeGeneres, it seems that desperate times have caused the actress to change her tune.
The troubled Arrested Development star, who reportedly entered rehab in May for drug and alcohol addition after a blowout fight with the talk show hostess, has babies on the brain, sources tell InTouch.
"All Portia can talk about is beginning a new chapter in their lives and starting a family," a friend of the couple tells the magazine.
Article continues below advertisement
And though DeGeneres, 56, isn't as nearly as eager to expand their brood, the star is "going along with it because she's desperate," the friend explains.
InTouch also alleges that de Rossi, 41, has consulted the Center for Surrogate Parenting in Encino, Calif., to discuss the couple's options.
On their website, the agency claims to be "dedicated to helping couples achieve their dream of become parents, regardless of sexual orientation."
"Every couple is special and we make no distinction between heterosexual couples and gay couples," the center insists.
And while the Center for Surrogate Parenting says the process can cost about $60,000, the cost is just a drop in the bucket for the millionaire Ellen host.
According to InTouch, de Rossi created a video to coax her wife of eight years into her grand plan.
"Portia made a video montage of Ellen with kids she's interviewed over the years . . . It really choked Ellen up," the insider says. "Portia hugged her, whispering 'You'd be the best mother ever.'"
"She thinks a child will bond her and Ellen forever."
Hopefully the couple is ready for a rocky road ahead: As RadarOnline.com exclusively reported last week, celebrity journalist Randy Jernigan will publish a shocking tell-all about the power couple's tumultuous relationship in September.