One Moore Insult! Ashton Kutcher Freezes Ex Demi Moore Out Of Her Friendship With Madonna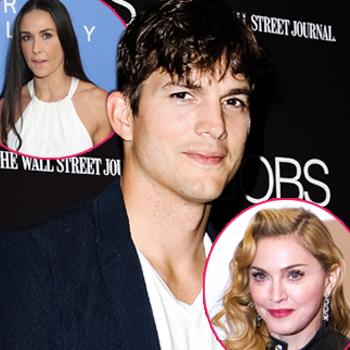 Ashton Kutcher has driven a wedge between ex-wife Demi Moore and her former friend Madonna, RadarOnline.com has learned.
"Ashton has flat-out stolen Madonna's manager, Guy Oseary, as a friend from Demi, and now Guy and Madge have mutually frozen Demi out of their lives," a source said.
According to the source, 36-year-old Kutcher's buddy-buddy relationship with Oseary, 41, comes from Kutcher's business and tech savvy, which Oseary has always admired. And the friendship dates back to before Kutcher's fiancé, Mila Kunis, 30, became pregnant, the source said.
Article continues below advertisement
"Ashton and Guy have become super close. They would often throw parties together before Mila found out she was expecting."
Meanwhile, Moore, 55, whose bitter divorce from Kutcher was finalized last year, "has been on the outs with Guy for a while. Guy's Oscar party last year was the first since 2006 that Demi didn't co-host, which has all mutual parties involved convinced that Demi and Madonna are also on the outs."