Exclusive
Is Moore Less? Demi Behind Renee Zellweger Makeover's Actress — She 'Is Being Mentored' By Close Friend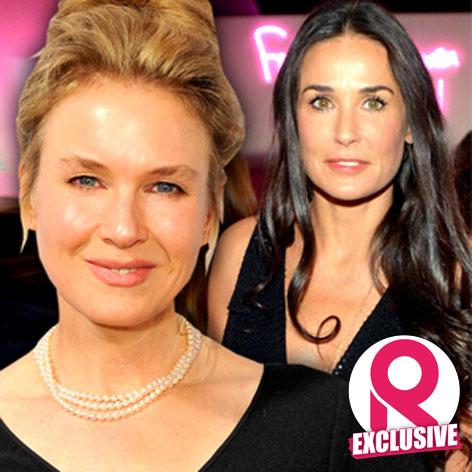 Renee Zellweger has made Demi Moore her new mentor--and may have even turned to her for plastic surgery advice, RadarOnline.com has learned.
The Bridget Jones Diary star, who turned 45 last week, has largely dropped off the Hollywood map — and now a source said, "unless she pulls herself together, Renee's acting future looks very uncertain. Renee is in deep therapy dealing with her anxiety about appearing on camera again after a string of embarrassing movie flops."
Article continues below advertisement
"Pals are convinced it was Demi who gave her her plastic surgeon's number, thinking it would give her a confidence boost," the source said.
At the 2013 Oscars, Zellweger got roundly criticized for perceived facial plastic surgery -- and afterwards, the reclusive actress seemed to avoid the spotlight even more.
As RadarOnline.com has reported, the star looked unrecognizable at a movie screening in fall 2013.
While some thought Zellweger appeared more natural at the Painted Turtle event earlier this year, others blasted her for still looking like she'd had Botox.
Article continues below advertisement
"The mixed reaction to her transformation has unnerved Renee in a big way," the source revealed.
"She's still a complete workout addict and as skinny as she's ever been so there are those body issues at play as well."
But the source said Zellweger, who longs for a film comeback, got another setback recently when Daniel Craig abruptly dropped out of The Whole Truth, the courtroom drama they were set to start filming together on April 14. The project is now in limbo.
"Renee is grateful for Demi's help and friendship, but what she really needs now is for people to stop talking about her appearance--and to go see her in a movie hit," the source said.