Exclusive
Moore Information! Ashton Kutcher Called Ex Demi Moore To Tell Her Mila Kunis Was Pregnant: 'He's In Denial About How Much Hurt He Caused'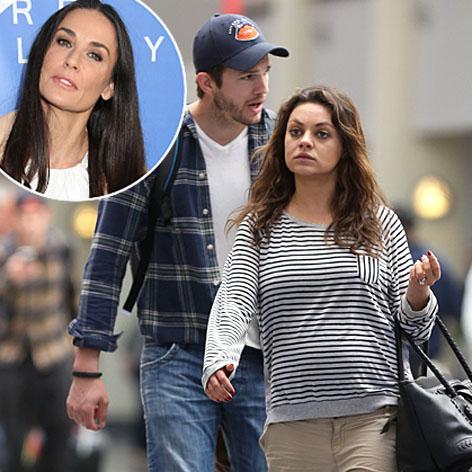 Incredible but true --Ashton Kutcher called ex-wife Demi Moore to give her the head's up that his fiance Mila Kunis was pregnant, RadarOnline.com has been told.
"Demi was one of the first people Ashton called when he found out Mila was expecting his first child," a source told Radar.
"While that might seem shocking to many given their bitter breakup, it's just Ashton's style to inform Demi before the news broke. He was fully aware of how much Mila's news would affect Demi and wanted to be the one to tell her personally."
Article continues below advertisement
At the same time, the source noted, like his famous TV characters, Kutcher was being more clueless than courteous!
"He's still in denial of how much hurt he's caused Demi and friends are convinced he'd do anything to salvage a close friendship with Demi despite that," added the source.
Kutcher, 36, and Moore, 51, split up in 2011 after the actor allegedly cheated on his much older wife with a college student. The actor started dating his former That '70s Show co-star Kunis, 30, in 2012 and in November 2013, his divorce from Moore was final. Kutcher and Kunis announced their engagement in March and the Black Swan star confirmed her pregnancy to Ellen DeGeneres in May.
But Kutcher decided to keep Moore, who had three daughters with second husband Bruce Willis, informed, the source said, because, "Demi knows how badly Ashton wants to be a father and have a huge family – they tried to conceive a kid together for years with no luck."
The Two and a Half Men star "is desperate to have a big family, and it's something Mila and he have been open about with their friends. They're both in a place in their careers where they can actually do this and make it work, but Ashton doesn't want any more drama with Demi and is keeping her in the loop out of what he says is courtesy."