Exclusive
There's Moore On The Way! Demi Planning Major Comeback As Ex Ashton Kutcher Moves On With Pregnant Mila Kunis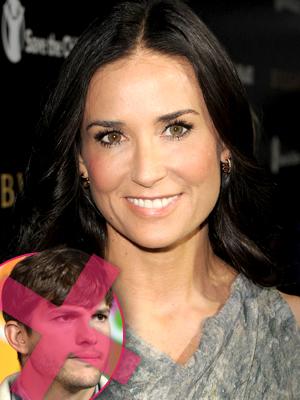 As Ashton Kutcher and Mila Kunis prepare to welcome their first child, RadarOnline.com has learned that his ex-wife, Demi Moore is planning her own rebirth -- through a massive career makeover!
Moore has laid low ever since her painful split from Kutcher, but now, "Demi is loving her new reclusive lifestyle because she realizes how overexposed she was when she was with Ashton," a source tells Radar. As an added bonus, the source says, "Now there's a real demand for her. She's learning that female fans really identify with her and hate the way Ashton behaved. The public wants more -- of Demi!"
Article continues below advertisement
And she's ready to give it to them.
Moore, 51, was the toast of Hollywood when she made a fleeting appearance looking rested and happy at Madonna's post-Oscar party on March 2.
But even though the invites are flooding in from friends and fans curious to see how she's faring in the face of Kutcher and Kunis' relationship, the source says, "Demi is insisting on laying low ... until the fall. And she plans to re-emerge with a message."
"She is reinventing herself and that includes her look," the source says. "She's slowly trying to put on healthy weight and muscle and is looking more like the 'old Demi and not the underfed, half-starved 'Mrs. Kutcher.'"
"When she does re-enter public life, she is going to be ready to talk about her body and the issues she's had with it over the years," the source reveals. "Her new catchphrase is, 'Be honest-- about everything!' It's a new approach her fans are sure to love!"
Those fans were shocked when Kutcher, 36, reportedly cheated on Moore with a college girl in 2011. They had a messy divorce that was finalized last year. Kutcher went on to get engaged to his former That '70s Show co-star Kunis, 30, and now they're expecting.
But Moore, who had three daughters with previous husband Bruce Willis, 59, is clearly moving on.
Are you ready for Moore or do you think her time has passed? Let us know in the comments!