Exclusive
That '70s Whoa! Ashton Kutcher, Mila Kunis' Former Co-Stars Can't Believe Their Engagement After Sitcom Feud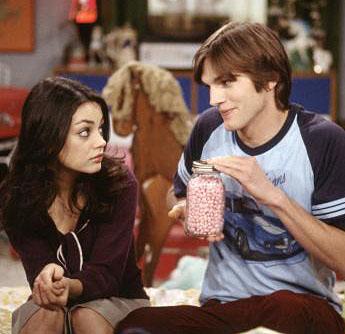 Ashton Kutcher and Mila Kunis are now planning a wedding and babies, but their former That '70s Show co-stars are shocked because the two "despised each other," during the making of the sitcom, RadarOnline.com has learned.
"Everyone shakes their head over the romance," a longtime friend of Kutcher, 36, and Kunis, 30, said.
"Ashton and Mila were absolutely not friends during much of the making of That '70s Show. In fact, they couldn't stand working together."
Article continues below advertisement
Kunis played spoiled rich girl Jackie on the sitcom, who was romantically involved with Kutcher's airhead character Kelso. That '70s Show ran from 1998-2006.
But according to the source, "The two were never close on the set. Quite the opposite!"
However, after Kutcher's messy split from wife Demi Moore, 51, in 2011, in which the actor was accused of cheating on her with a younger woman, "Mila was the one who came forward to bury the hatchet," the source noted.
"She could see Ashton was going through a tough time and reached out to him. They built a solid friendship, which was a new thing for both of them."
Their feelings turned into love, and after Kutcher's divorce from Moore was finalized late last year, the two were finally free to get engaged. Recently, Kunis has been spotted wearing a massive diamond ring.
Signaling they were moving towards married life, they shared a double date on March 12 with Kutcher's Two and a Half Men co-star Jon Cryer and his wife, Lisa Joyner.
"Everyone's amazed at how different Ashton and Mila are together from when they were younger," the source said. "It's such a total change and now they're a match made in heaven – something that no one could have ever predicted in their wildest dreams back then!"