Exclusive
Dancing With The Baby! Ashon Kutcher And Mila Kunis Take Ballroom Dance Lessons During Her Pregnancy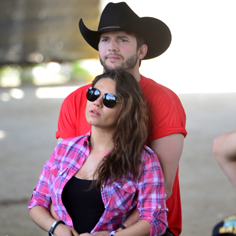 Ashton Kutcher and fiancee Mila Kunis are dancing with a little star, their soon-to-be-born baby! RadarOnline.com is exclusively reporting.
According to a source, "Ashton and Mila are taking a novel approach to staying healthy during her pregnancy – with ballroom dancing. They've been taking lessons for a long time now and find it's the best low-impact exercise for Mila as she balloons with their first child."
Article continues below advertisement
The couple was inspired by Bradley Cooper and Jennifer Lawrence's big romantic dance number in one of their favorite movies, Silver Linings Playbook, the source explained.
"Ashton and Mila don't do anything complicated. They just do easy moves in fun ballroom dance classes that they took to have something different to do together. They're happy they did because it's great exercise for Mila."
During 30-year-old Kunis' pregnancy, she and Kutcher, 36, haven't been sitting at home! In April, for example, the pair was spotted swaying to country music at the Stagecoach Festival in Indio, Calif.
The former That '70s Show co-stars, who haven't revealed the sex of the baby or Kunis' due date (she's rumored to be expecting a girl), won't be waltzing that much longer, however, the source predicted.
"Mila may have to stop dancing as she nears her date, but right now she and Ashton are really enjoying it -- even though Ashton does get a little red-faced when their friends find out!"