Caught Red-Handed! See The Security Camera Footage Of Ben Affleck's Card Counting Bust — PLUS What His Wife, Jennifer Garner Thinks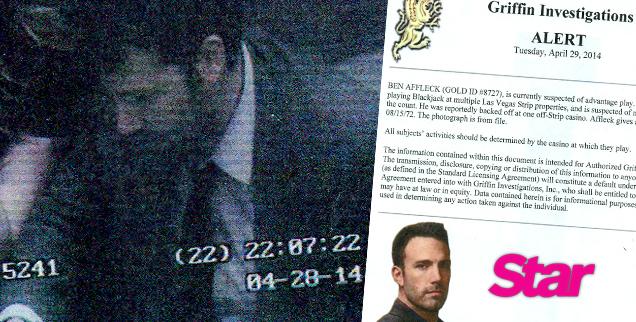 After Ben Affleck was caught card counting in Vegas last month, it's clear the actor's notorious gambling habit is back with a vengeance. Now, RadarOnline.com has learned, it's affecting his marriage.
According to a new report in Star magazine, Affleck's time at the tables has taken a toll on his wife, Jennifer Garner, causing at least one bitter fight.
As RadarOnline.com has reported, An April 22 internal email from the Games Protection Manager at the Wynn and Encore casinos in Las Vegas, Rob Olivetti, warned recipients that Affleck had been spotted counting cards. A few days later, on April 28, he was banned from play at the Hard Rock Hotel & Casino over similar issues, and a local security firm issued an all-points bulletin announcing the news, including a picture of Affleck at the tables grabbed from a security camera.
Article continues below advertisement
ON YOUR RadarOnline.com: Biggest Scandals Of The Year
She made her displeasure clear at the Hard Rock the night of the ban, according to the report.
As Affleck played, an eyewitness tells Star, "Jen was sitting with him, just watching, and she looked totally bored and annoyed. After Ben had been playing for about an hour, the pit boss started making phone calls. Then, shortly after, security confronted Ben. He was told he needed to leave and was escorted out Before he left the table, he grabbed a ton of chips and put them in his satchel. Jen followed him out, way behind him. She had her head down and looked embarrassed and ashamed."
Back in the room, "Jen screamed at him, telling him he needed to quit gambling for good," the source claimed. "But he told her that he's a grown man and will do what he wants"
Matt Damon & Ben Affleck: Boys Poker Night
For more details on his gambling and their marriage crisis, pick up the latest issue of Star, on stands now!