Exclusive
Jennifer Lopez Breaks Down, Sobs On Stage After Singing About Lost Love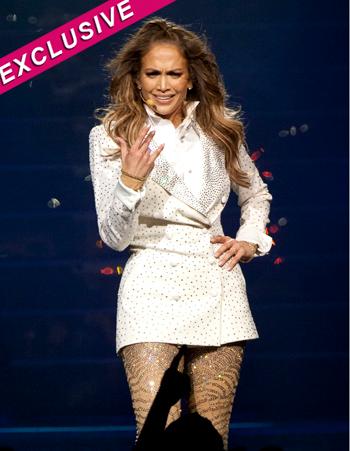 Jennifer Lopez let her emotions and her tears flow while singing about love Saturday night.
During her headlining performance at the Mohegan Sun Arena's 15th anniversary celebration, she broke down in tears and ran offstage sobbing.
After an acoustic performance of If You Had My Love, Jennifer addressed the audience, telling the packed house it was "the first song I wrote about love."
Visibly distressed, she then added, "what is love? As the last song I wrote about love...a lot has changed since then."
Article continues below advertisement
As she sang, pairs of dancers appeared in spotlights around her. One couple had a P. Diddy look-alike with the female dancer wearing a copy of her infamous slit-down-to-the navel Versace gown. Another had the male dancer mimicking Cris Judd with the girl in jeans and a T-shirt, while another pair had the girl wearing a seafoam green gown on the arm of a Ben Affleck double. Most telling was the dancing couple who recreated Lopez and Marc Anthony during their sizzling American Idol performance last May, just weeks before they announced their split.
"At the end of the song she started sobbing and had to take a few moments to keep it together," an onlooker told RadarOnline.com exclusively.
"She held it together for one song but then ran offstage crying.
"She only sang a few more songs and she was obviously out of it. Everyone was so sad for her. It was really dramatic."
RELATED STORIES:
Marc Anthony: I Didn't Cheat On Jennifer